A Day in Tel Aviv
It was my second day in Tel Aviv and I had decided to devote it mostly to street photography. In order to do that I would visit two of the city's greatest sites, the Hayarkon Park and the famous city promenade. I would start at the park and walk along Yarkon River all the way to its mouth which is just north of the port. From there I would turn south and walk the promenade up to Hassan Bek mosque.
Before going to the park, I wanted to see the museum of art, even though I knew that there wouldn't be time to visit it since it was Friday and it would be closed early for the Shabbat. Even so, the magnificent building that houses the museum was a good enough reason to take the half an hour walk.
Indeed the building looked like nothing I had seen before. There is not a single curve on it. It is made from several mostly rectangular and triangular flat concrete surfaces which are divided by small gaps and give the impression that the whole construction is made out of paper. Some of these panels have windows and the triangular ones reminded me a bit of Star destroyers—the Imperial warships from Star Wars.
It was quiet with a person passing here and there so after I fooled around for an hour it was time to go. The reason why I decided to walk to Hayarkon Park from the art museum is a mystery to me until today. I didn't mind the extra hour, it was just that between the museum and the park, there are only office buildings, lots of traffic and not any people. So walking around there with a camera was rather pointless and I would prefer to have spent that time on the promenade.
Hayarkon Park
When I reached Hayarkon park I had a small problem finding my bearings. It is spread on a vast wide area before its width narrows and occupies the banks of Yarkon river on its way to the west and the Mediterranean Sea.
Except for the elaborate gardens there were also extended areas with "wild" vegetation away from the trails where people had picnics or gathered herbs. There, Tel Aviv disappeared behind the tall vegetation except for some tall buildings far away into the horizon which gave the park a sense of remoteness.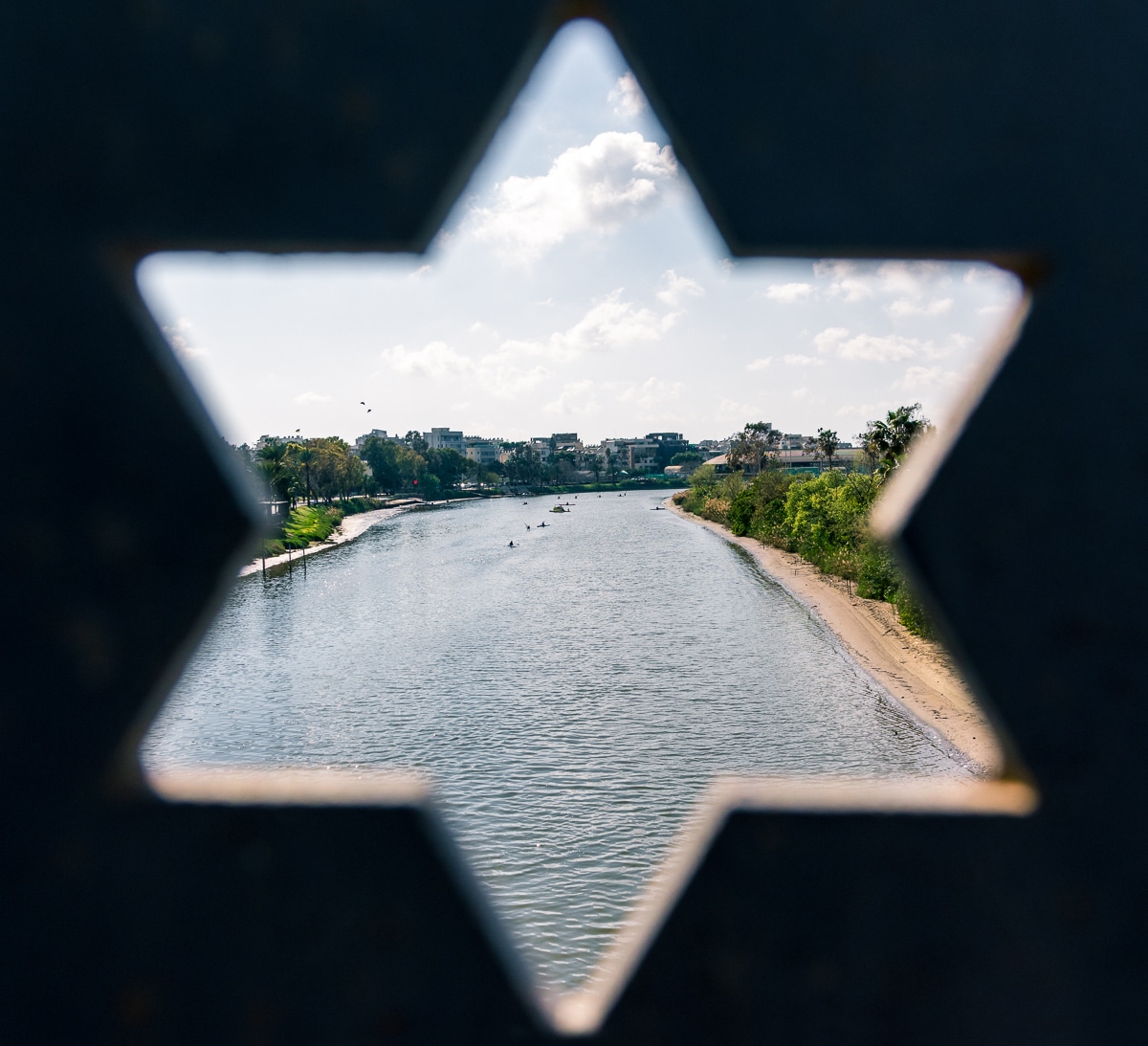 As I was walking, for a moment I forgot I was in Tel Aviv. Lakes, dirt roads, wooden lunch tables and the Yarkon River full of colorful canoes paddling up and down the stream. Lots of people were using the numerous sports facilities or were just running. There was a mud race sponsored from a known brand that day, and most of the runners were covered in mud as they were running from obstacle to obstacle.
I have to say that most of the locals seem to follow a very healthy lifestyle. Bicycle usage is very widespread, and the number of people running or exercising throughout the city was impressive. Families were outside doing activities rather than sitting somewhere and drool over their phones. I really liked that. I could have spent the whole day in Hayarkon Park and still I wouldn't manage to see all of it. I walked along the river, mostly shooting without stopping for longer than two or three minutes.
The Promenade
After a couple of hours I reached the seafront near the port. On its north side, was a nice dock laid with thick wooden boards and a white and red carousel in the middle. I stopped there in a small food plaza for a quick coffee which was pretty good.
The promenade was buzzing with people of every age, religion and color who had come for their afternoon stroll. From seniors walking slowly up and down to youngsters with their roller blades and skate boards swishing past me. People playing beach volley and rackets, small outdoor gyms and slackliners, DJ parties and street artists.
Influences from the US were plain to see everywhere. The same familiar vibe from pictures taken at Venice beach with the body builders, the hipsters and the street performers. Lots of characters around and the best of all, everybody was cool about having his picture taken. Most didn't even pay attention to me which was ideal. I stuck around musicians a lot and all of them I have to say, were performing above average. It was like they had been through an audition before been allowed to play on the beach.
I could see there were slightly different crowds that inhabited every beach. Families, party goers, gays, hipsters, surfers doing their thing and beaches that went by names like Gordon, Metzitzim, Banana, Jerusalem and Hilton.
Voice of Peace
The Voice of Peace was a legendary radio station which broadcasted from an old ship five kilometers off the coast of Tel Aviv. It was operated by Abie Nathan—an active pacifist and humanitarian who had managed to support the whole project with the help of John Lennon and other personalities of that time.
The station was immensely popular to Israelis and Palestinians alike since it was the only media that gave both sides the ability to be heard and communicate through its telephone forum. For this reason Nathan was able to keep it running for twenty years even though the Israeli government didn't like it at all. They did manage to put him behind bars for half a year in 1991 though. The station broadcasted in November of 1993 for the last time and MV Peace—the ship from where the station was emitting was sunk by Nathan in November 28th. A memorial plaque next to a speaker on Gordon beach is all that is left to remind what the Voice of Peace once was.
The minutes became hours and as the afternoon wore on, it got a soft golden light. The volume of people lessened but there were still hundreds around me at any given moment. When I reached Banana beach and Hasan Bek mosque, it was time for me to go back to the hostel. I walked a bit more towards Jaffa and then turned left through Neve Tzedek and its little houses for one last time.
All in all it was a great day in Tel Aviv. Nothing out of the ordinary but still the kind that sticks in the mind for a long time. I definitely have to return to Tel Aviv at least once more. I already feel nostalgic as I go through the pictures I shot that day on the beach.
 Follow my blog with Bloglovin