The capital of Slovakia lies on the banks of river Danube near the country's western border, forty five minutes from Vienna, and less than two hours from the other jewel of Danube—Budapest. Bratislava is the smallest of the three and definitely the most underrated. Many people consider it a single day destination, or even worst, a small stop between the other two, but that's just narrow-minded. Pressburg, as it used to be called up to 1919, has a deep history, amazing architecture and a compactness that makes it perfect for walking.
Bratislava has also been a capital city for another country. It served as the capital of the Hungarian empire (Hungarians called the city Pozsony), after the Ottomans occupied a great part of it, including Buda, and flourished as part of the Habsburg Monarchy for almost 3 centuries. After WWII, Bratislava which was part of Czechoslovakia by then, enters the communist era and along with the rest of the country joins the Eastern Bloc.
While strolling around, it's not difficult to witness the country's soviet past. But then again, Bratislava doesn't deny it, on the contrary, it embraces it. The old Skoda trams (those still not replaced at least) zooming around, the UFO bridge, the Slovak Radio building; they're all icons of a bygone but not forgotten era.
Bratislava is a joy to walk. Scenic and painterly charming, from the banks of Danube to the old town, and from the beautiful parks to the open squares. It's got a natural appeal. It's easy to fall in love with it while strolling the Sad Janka Kráľa park ,or having an afternoon beer at Dunajsky Pivovar, a barge transformed into a botel on the right bank of Danube. From there, you can see the SNP Bridge (UFO) and the gothic church of St. Martin, across the river, just below the iconic castle of Bratislava. During sunset, these three form the ultimate carte postal of Bratislava.
Slovaks are relaxed and open minded; something easy to see while walking around town. Even though most of them don't speak English, they will try to help and communicate with you the majority of the times.
While crossing the UFO Bridge, I couldn't but appreciate the huge width and calm force of the imposing river under my feet. A few more minutes of walking, and I was at the old town with its narrow cobbled roads, the small museums, the quaint cafes and bars, the opera, the malls, the bars and restaurants. Whatever your interests are, Bratislava has something for everyone.

Local cuisine
From the humble "halusky" and "kapustnica" to goulash and duck with red cabbage; the local cuisine is rich in meat like pork, beef, and duck. The main plates are usually accompanied with a pickle like sauerkraut and something to help you pick the sauce; most often knedle (local boiled bread) or loksha (something like a crepe).
Kapustnica is usually prepared around Christmas and it's a delicious soup made of sauerkraut, sausage and lots of red pepper. You can find it all year round, but If you are in Bratislava near the end of November or December you should definitely taste it in one of Bratislava's Christmas Markets.
Things to Do and Places to Visit in Bratislava

Bratislava Castle
Built on the most prominent location-a hill at the north banks of river Danube; Bratislava's Baroque-style castle overlooks the whole city, and from its top one can see as far as Austria and Hungary. The white bulky building with the red-clay roof tiles and the four towers on its corners is the Slovakian capital's icon, and therefore visiting it is a must.
Going as back as the 5th century and the Celts; Bratislava castle withstood the Mongol attacks in 13th century, and when Hungary fell to the Ottomans it became the seat of the Kingdom of Hungary, which by then was ruled by the Habsburgs.
Today, inside its sparkling white halls, the castle hosts the Museum of History, as well as many art and history exhibitions, which makes it a sight of great interest on multiple levels. You don't just visit a medieval building; you visit an amazing multi-exhibition space. As a bonus, you get the amazing views from its windows towards the Danube, the UFO Bridge, and the rest of the city.
Opening Hours:
November 1 to March 31:
Daily except Mondays 09:00 – 17:00
April 1 to October 31:
Daily except Mondays 10:00 – 18:00
Admission: €10 (Free with Bratislava Card)
Michaels' Gate and the Coat of Arms Museum.
The last remaining gate of the city's fortifications and its adjustment tower, with the characteristic patinated copper top, can be seen from all over the old town, and it's the most distinguishable spot of Bratislava's medieval center. What many people don't know is, that inside the old tower is a small but fascinating museum dedicated to historical weapons and armors and that on the top there is a great 360 balcony where you can enjoy some amazing views of the old town and the rest of the city.
Opening Hours:
Tuesday to Friday: 10:00 – 17:00
Weekends: 110:00 – 18:00
Admission: €5 (Free with Bratislava Card)
Bratislava Old Town Hall Tower & City Museum
The oldest museum in Slovakia is right in the heart of the old city and it's about Bratislava itself. This fascinating museum covers the city's history from the Dark Ages till the 20th century, and hosts several artifacts of great interest as well as many "historical" rooms that can bring you back in time; the torture chamber perhaps being the most characteristic. From there, you also get access to the town hall's tower where you can overlook the main square. Overall, it provides a great experience.
Tuesday to Friday: 10:00 – 17:00 (16:30 final entrance)
Weekends: 11:00 – 18:00
Admission: €5 or €1 just to get on top of the tower (Both are free with Bratislava Card)
Do you want to know more about Bratislava? Perhaps you will find this story interesting:
Slavin Memorial
Slavin is an imposing monument as well as the burial ground for almost seven thousand Russian soldiers who fell during the liberation of Bratislava from the Nazis. It is built on the top of a big hill, and from there the visitors can view the whole city while strolling its green gardens. If you take the bus there, you will have to climb stairs for around twenty minutes, alternatively, you can take an Uber or taxi all the way to the entrance.
Devin Castle
The "other" castle of Bratislava is located ten kilometers outside the city, where Danube and Morava rivers meet on the border with Austria. The present castle was built in the place of previous fortifications on this stone hill that soars two hundred meters above the village of Devin. It was part of the Hungarian Empire defenses and remained undefeated till Napoleon Bonaparte destroyed it, even though it had long been demilitarized. In the mid-20th century, it came back to history as part of the Iron Curtain when the river banks were layered with barbed wire and watchtowers that opened fire to anyone who tried to cross the river into Austria. Today, in ruins, the scenic Devin castle seems to be a million miles away from all that turbulence and bloodshed, and only the "Gate of Freedom" memorial is there to attest its dark past. It's a great site to visit, if only, for the magnificent views of the Danube and the Austrian banks from its top.
Opening Hours:
November – March: Mon – Sun 10:00 – 16:00
April – September: Mon – Sun 10:00 – 19:00
October: Mon – Sun 10:00 – 17:00
Admission: €5 (Free with Bratislava Card)
Sad Janka Krala
One of the most beautiful city parks I've ever visited. Located on the right bank of the Danube river and meters away from the UFO bridge, Sad Janka Krala is a place you definitely have to visit. Its narrow tree-lined roads often lead to isolated curved benches surrounded by endless grass areas. With the first snow, it becomes an entirely different place turning from green to all white.
The Museums and Galleries
Museum of Clocks – House of The Good Shepherd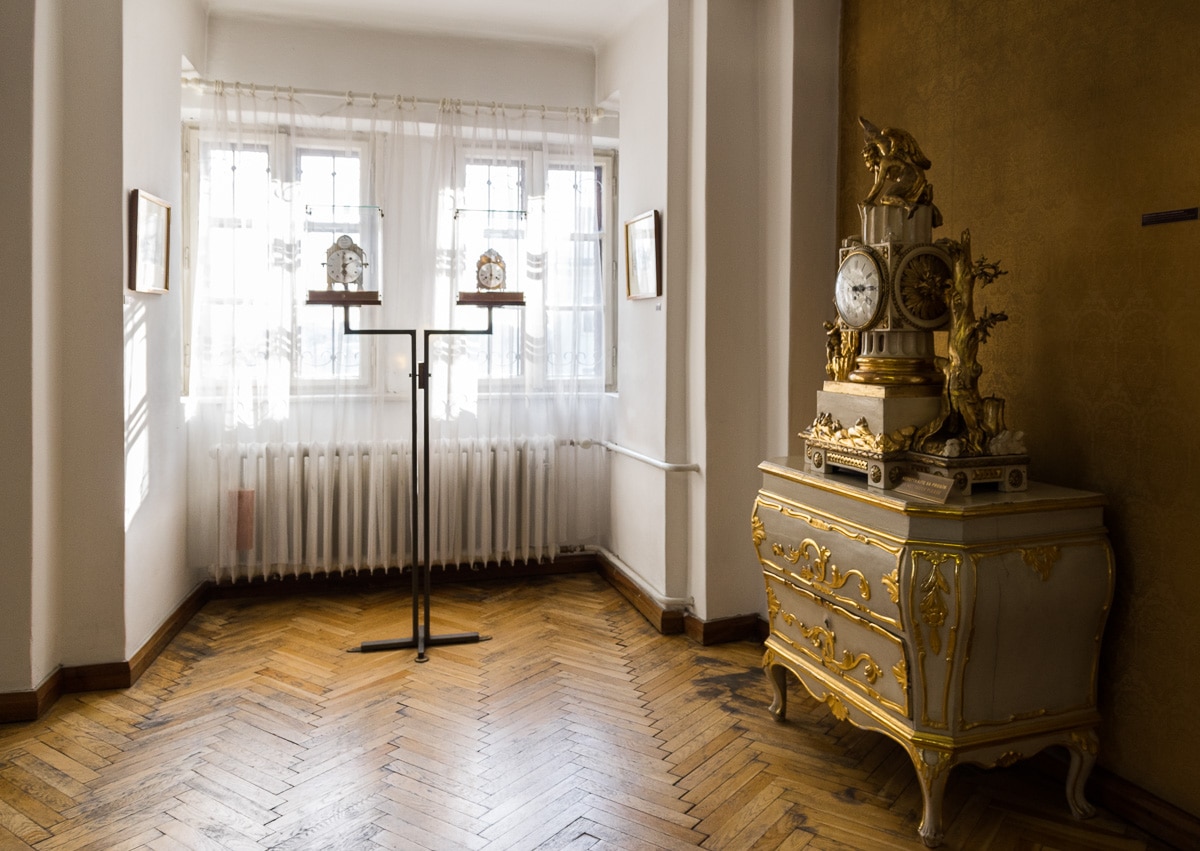 Bratislava, or rather, Pressburg, used to have a long tradition in clock making and local craftsmen were considered master horologists. The museum of clocks is a small and interesting museum hosted in the "House of the Good Shepherd"-a gorgeous Rococo building in Bratislava and a relic of architectural significance in itself. Inside this fairytale museum, you will find timepieces from 17th to 19th century: wall clocks (some extravagant), alarm clocks, pocket watches, and even some early wristwatches.
Opening Hours:
Weekdays except for Monday: 10:00 – 17:00
Weekend: 11:00 – 18:00
Admission: €2.50 (free with Bratislava Card)
Museum of Pharmacy
One more museum in the town center, just next to Michael's gate. This was a real working pharmacy from the 16th century, called "Red Crayfish". Inside you will find the original furniture and shelves with hundreds of old pots and vials containing medicines of that era. It's very interesting to see the main room which is the shop intact, as it was four hundred years ago, but I find the €5 admission a bit steep. It's free with Bratislava Card though, so if you're there it's worth a visit.
Opening Hours:
Weekdays except for Monday: 10:00 – 17:00
Weekend: 11:00 – 18:00
Admission: €5 (free with Bratislava Card)
Museum of Photography
A beautiful private museum featuring a very interesting collection of Slovak photographers (and an original Bruce Gilden), as well as some temporary exhibitions from time to time. There, you can see old cameras and tools of photography, as well as many rare photographic books-mainly from Europe.
Opening Hours:
Every day except Monday: 13:00-18:00
Nedbalka Gallery
A brilliant four-floor gallery housed in a very old building that has been reconstructed and features an oval-shaped atrium with skylight, reminding that of Guggenheim museum. Nedbalka exhibits works of local painters starting from the late 19th century to today's contemporary art; essentially telling the story of Modernism in Slovakia. The exhibition starts from the top floor with the oldest works (I loved Ladislav Mednyánszky's landscapes) first and proceeds to the lower levels with the newer ones. The free coffee at the gallery's café is a welcome touch.
Opening Hours: Every day except Monday: 13:00 – 19:00
Admission: €5 (includes free espresso, 20% discount with Bratislava Card)
Danubiana Meulensteen Art Museum
This fabulous art museum resides 20 kilometers away from Bratislava and is really worth a visit. It's located on River Danube, next to the Cunovo dam and hosts several modern and contemporary works from local and international artists like Sam Francis and Kiro Urdin. Its stunning location-on an artificial peninsula and the contemporary buildings with the beautiful surrounding art park is a reason to visit alone. Expect to spend at least three hours to see everything and enjoy the Danubiana experience undisturbed.
Opening Hours:
Every day except Mondays: 09:00 – 18:00
Admission €10 (20% Discount with Bratislava Card)
Accommodation
Chors Boutique Capsule Hostel
Presenting a great value for money, this industrial designed capsule hotel is ideal for those who want to explore the city, and need nothing more than a bed for the night. Located on Obchodna Street, one of the liveliest streets of the town, and less than five minutes from the historical center. Chors offers capsules in spacious rooms with common use desks that you can use to sit and work. The kitchen is fully equipped with everything that you could ask for, and the toilets are always sparkling. If the dormitories (four to ten beds each) don't provide enough privacy for you, then you can go for a business room. There are also double bed capsules for couples; as for the staff, I have only nice things to say. Bookings

Mercure Bratislava Centrum
A great contemporary 4-star boutique hotel with amazing pop art in every room, conveniently located next to the train station. Ideal for business travelers and people who want to stay a bit away from the buzz of the old town. The rooms are modern and cozy, and the breakfast really good. As for the pricing; it's very attractive for a hotel of this category. Bookings
For more info, you can read our full review.
Botel Dunajský Pivovar
Looking for something outside the ordinary? Dunajsky Pivovar is a river barge converted into a hip hotel on the south bank of river Danube. What could be better than watching the city lights reflecting on the river water while you're at bed? The food is amazing, and the experience of tasting a pint of their own beer (they have their own brewery) while watching the river traffic passing by is just unique. As an extra bonus, Dunajsky is meters from Sad Janka Krala-Bratislava's most beautiful park. Bookings

Roset Boutique Hotel
A luxurious 5-star for those who won't accept anything less than the best. Just a few blocks away from the main square, Roset Boutique hotel combines the perfect location with the ultimate luxury and high-end design. Its beautiful rooms measure from big to huge, and the high ceilings remind you that you are in a historical building with all the charm and character that goes with it. Excellent facilities with a wellness center and private parking. Bookings
Where to Eat
Bratislava Flagship
I was initially reluctant to visit this massive restaurant because I prefer smaller places and was afraid that it might be a tourist trap. My worries quickly dissolved during my first visit though. Housed in a former cinema, this grand restaurant is one of the best places in Slovakia to taste the local cuisine. You definitely have to try the garlic soup which is served inside a bread and of course the halusky.
Transportation
For transfers within the city limits, your choices are tram, bus, Uber, and taxi. The bright red Skoda trams are probably the most convenient way to go around the city. The bus service is also good and cheap. For more comfort, I would take an Uber. As for taxis, I've had some bad experiences in the past (overcharging) and I know that I'm not the only one. I hope that the standards have risen after the re-introduction of Uber in 2019, but haven't used one since.
Intercity Connections and Nearby Destinations
Bratislava intercity transportation is also excellent. Buses and trains are have regular routes throughout the day.  Bratislava's location and reasonable prices make it a very good base for traveling in central Europe. It's less than an hour from Vienna, less than two hours from Budapest, 4 hours from Prague, and if you are willing to stretch it a little bit more, Krakow is a 5 hour drive but with poor options for train or bus (7-10h).
Bratislava is a beautiful capital. With population a little less than half a million it has the perfect size to be walked. It big enough without being chaotic. It's cozy, green, very manageable cost wise and it has this central European charm. A city worth visiting.
Did you know that Slovakia has many amazing castles? Check out the magnificent Spis Castle.