Irish Mountains
Talking about mountains in Ireland, might sound a bit ironic since the emerald island is famous for its endless green flats more than anything else. Truth is that Ireland not only has mountains but they also present a great opportunity for people to be introduced to mountaineering (this hiking guide can help) and do something that usually is pretty difficult—climb on the top of a country.
Carrauntoohil is the country's highest peak but still it's barely higher than a thousand meters (1039m to be exact). It belongs to Macgillycuddy Reeks, the only mountain range in the country with peaks over a thousand.
Even though Carrauntoohil is relative low, that doesn't make climbing it an easy task. It's still a mountain with the difficulties and the risks that all mountains come with. First and foremost the unstable Irish weather being a main factor. A couple of days before going to Carrauntoohil, we tried to climb Mt. Brandon—a much easier peak to summit—and failed. The weather was getting so bad, and even worst, the visibility deteriorated so much that made the possibility of getting lost real and the risk needlessly high. Add high velocity winds and much rougher terrain and the top of Ireland doesn't look like a walk in the park anymore.
When Veronika and I, decided to go to Ireland—a trip we were planning for a long time—I thought that it would be a shame if we didn't climb Carrautoohil. The fact that we would spend time in Killarney which is twenty five minutes away, made the idea even more attractive.
Bridia Valley as seen from Carrauntoohil
Our ascent would start northeast of the peak at Cronin's Yard. From there we would hike to Devil's ladder and climb it all the way to the ridge where we would turn right and climb the final section (almost 900m elevation gain in total).
The Hike
The forecast said that there wouldn't be any rain, at least not before afternoon. And indeed as we parked at Cronin's yard the sky was relative clear. A fine day for climbing. There was another group of men ready to depart but other than that it looked quiet that weekday.
The trail leading to the mountain was just few meters from the parking lot. We passed through the gate and kept walking on the small dirt road which went mostly along the river Gaddagh crossing it a couple of times. It wasn't cold. A simple compression top and a windbreaker did the job just fine. The land that leads to the mountain is private and the owners have placed a series of gates that prevent their animals from going to Cronin's yard. Dogs are forbidden after causing problems with the owners' sheep, so dog owners should take that into consideration.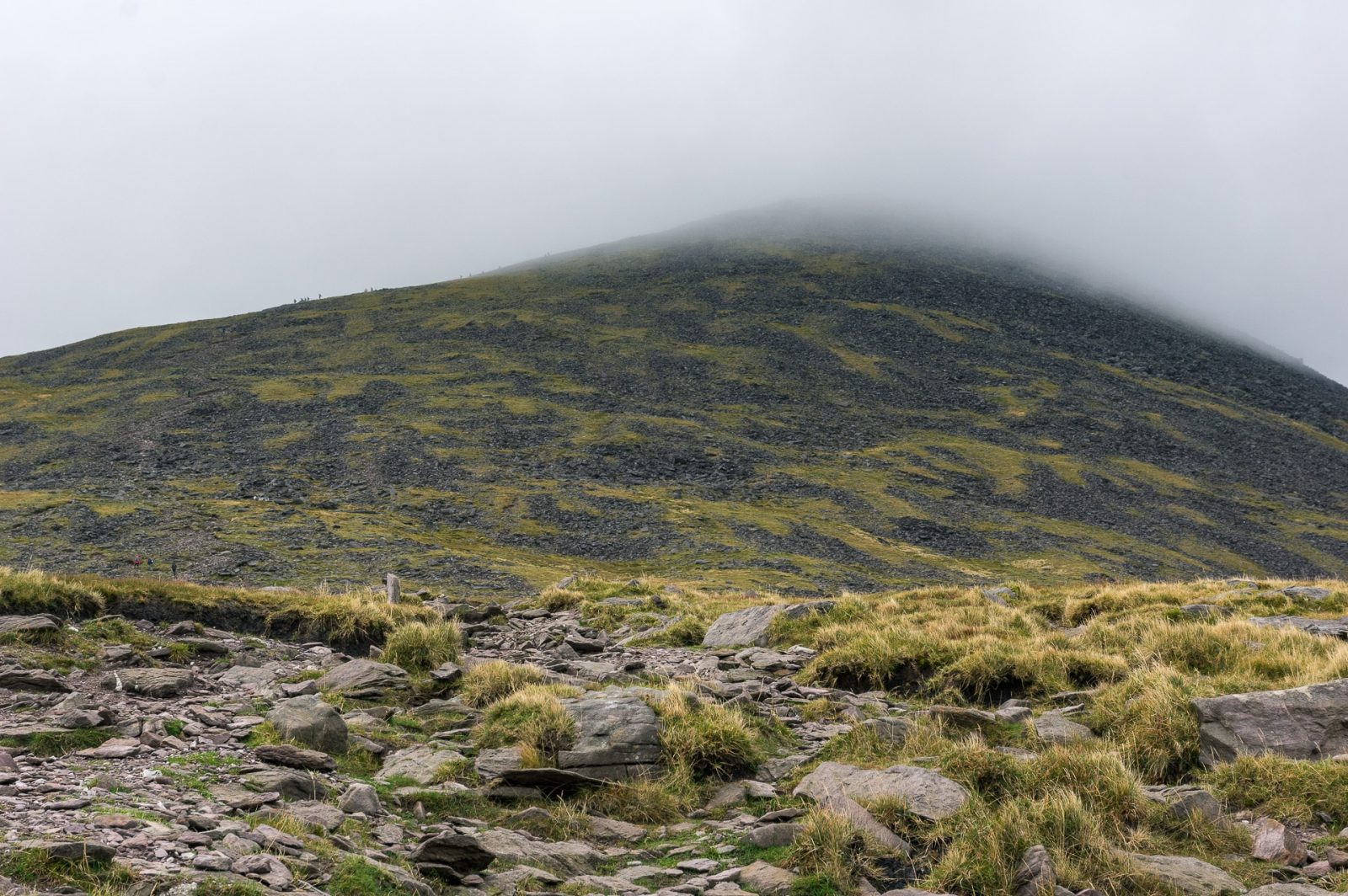 Carrauntoohil covered in clouds
The route was easy and straightforward all the way to Loughs(lakes in Irish) Gouragh and Callee. It took us an hour to get there during which the pyramid shaped peak was hidden inside a thick layer of clouds. It would stay like that for the rest of the day.
Devil's Ladder
While hiking between the lakes, we kept our eyes on the notorious Devil's Ladder which was looking increasingly threatening as we approached. It is only when one gets closer that he can see its proportions and steep angles clearly. Devil's Ladder is basically a gully that starts in the middle of the ridgeline between Carrauntoohil and the peak of Conc an Toinne and descends all the way down to the lakes. Being the most straightforward way to the top, it has become more dangerous in the course of time because of the erosion and the rockslides that occur after raining. Also, the fact that it's a natural gully means that water coming down from the mountain flows through it, posing an extra challenge to the climbers.
I wouldn't say that it is very technical but it definitely needs attention and sure steps. As a precaution we kept a minimum distance of four to five meters. The good thing was that it sheltered us from the wind which was quite intense up to then. We climbed steadily between big rocks and streams of water stopping every now and then to examine the path ahead of us and admire the view to the lakes behind us which was getting more and more spectacular as we were moving up.
It took us an hour to climb the Ladder at an average pace. Its exit or entrance depending how you see it, was quite narrow and not very visible from above, so the moment I stepped on the ridge I looked around and memorized the terrain in order to find it on the way back. My backpack was overweight as usual (even brought a drone in the unlikely event that visibility would be good and the wind not too strong) and my legs were getting stiff and heavy. We were thinking if to use another, longer, route for our way back which involved climbing up to Conc an Toinne and then getting down from a trail which is known as Zig Zags, but I wasn't sure.
Top of the Mountain
Carrauntoohil on the north was still covered in clouds but the views to the south and east were clear. The green pastures of Bridia valley were looking spectacular. Three hundred vertical meters to go. The ridgeline was exposed to the wind but the terrain was relative even and wide enough, so it didn't pose an immediate danger. My legs on the other hand were getting heavier. For the next hour I made three or four stops before, finally, I saw the big steel cross that marked the top of the mountain and Ireland on the same time, through the thick mist. It is always surprising how all the weariness and negativity leaves you the moment you lay your eyes on that cross. Unfortunately there was no visibility and consequently no view but that didn't lessen our joy.
The summit of Carrauntoohil
As we approached the cross, three Irish men had already taken position, lit their cigarettes and asked me for a photo, which of course I was more than happy to take. They were joyous they had made it and seemed even more relieved than me, I think.
In the meantime the wind had picked up and was blowing with a vengeance. We found shelter within a small circular stone wall which is apparently built next to the cross as an emergency refuge. We stayed there a bit with another two climbers with whom we shared dark chocolate and had our traditional sip of rum. A tiny rodent no bigger than a ping pong ball joined us, jumping from rock to rock till it found what it was looking for—the lid of a peanut butter jar that one of the guys had placed on the ground. Strange how a hostile place like Carrauntoohil can be the habitat of such a small and seemingly delicate creature.
After spending half an hour on the peak, we set back. The wind was furious at times, occasionally throwing us off balance but at least there was no rain. When we got near Devil's Ladder, my legs were still heavy from the ascend and so we decided to go straight down the way we came instead of the Zig Zags which we left for next time.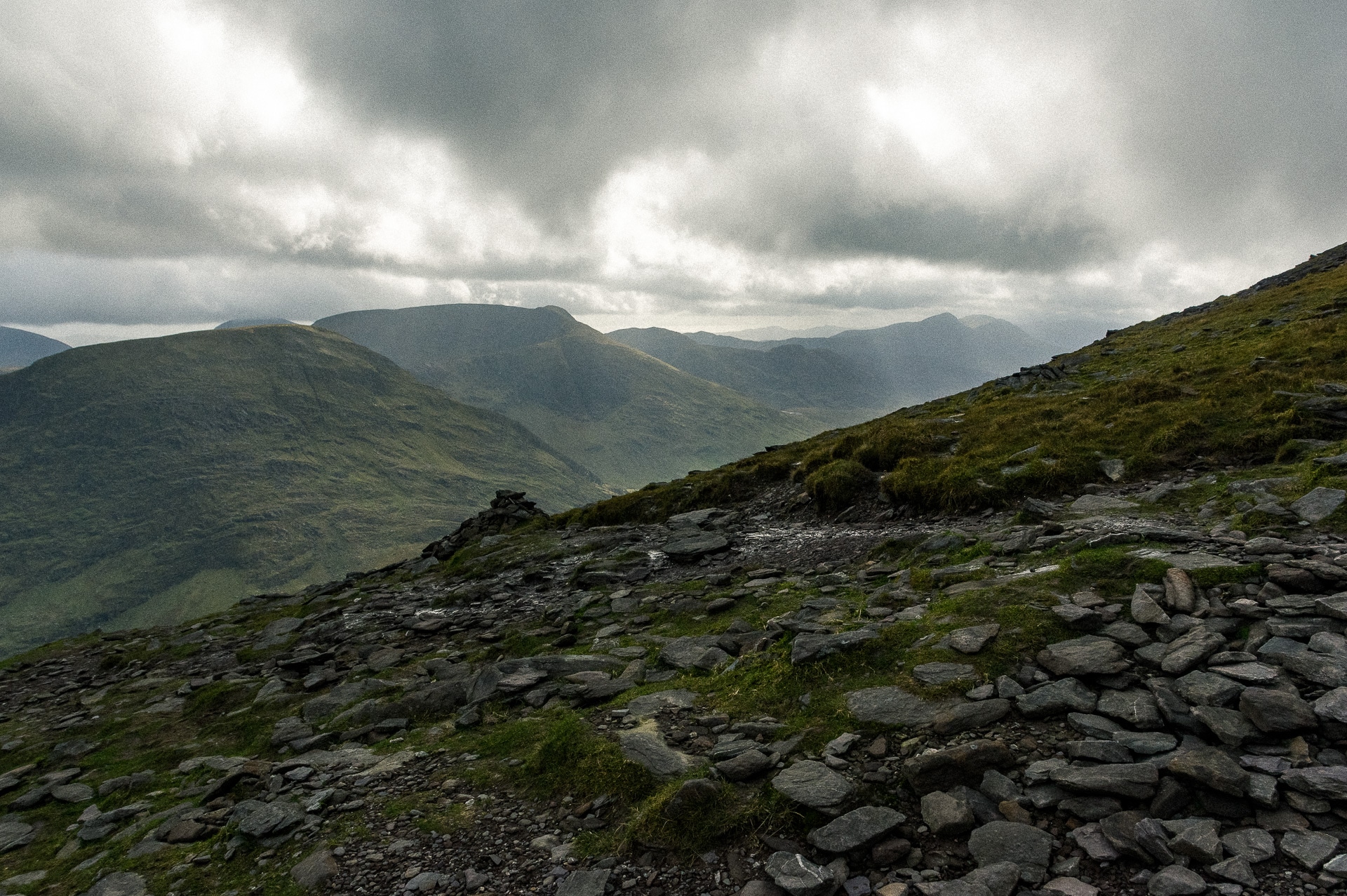 The rest of the descent went without any incidents and we arrived back to Cronin's yard around seven and a half hours after we set out. It took us almost four hours to climb and a little less to go down. It was worth every minute. Ireland is a sum of wondrous places and Carrauntoohil is definitely one of them.
Best time to Hike Carrauntoohil
Although people climb Carrauntoohil all year round, the best time to do it is between April and September. It is not the most challenging mountain out there but weather can make it a nightmare for the unprepared. I wouldn't want to be up there on a rainy day especially for the first time.