Every year, the missus and I try to climb at least one bucket list summit. Since we love hiking in High Tatras, this year's goal was Gerlakovsky—Slovakia's highest summit. While organizing the climb though something, or rather someone, came up and we had to adapt accordingly. Koprovsky (2363m) would be as adventurous and challenging as Gerlach, but more accessible, so there wouldn't be a need for a mountain guide. A perfect High Tatras hike.

Koprovsky is well deep in the Tatras, near the border with Poland. Instead of doing it the "easy" way and climb in a single day from the famous resort of Strbske pleso, we went for a two day hike starting from Hrebienok—a small funicular station connected to Stary Smolovec which is the oldest resort town in High Tatras. It was going to be our little expedition and we were excited from the first moment. Our team would be Veronika, her father Marian—a seasoned climber like most Slovaks—and I.

We love the alpine character of Tatras and try to spend there as much time as possible when in Slovakia. The fact that the national park is closed for the most part of the year, makes each visit unique. When the gates close in November, the public has to wait for nine months before opening again, usually somewhere in June. You can still hike some trails but most of the park is closed for those who are not a members of climbing clubs. This goes only for the Slovak side (the biggest part of the mountain), the Polish side is open all year round.
Hiking in High Tatras

The plan was to arrive in Stary Smokovec as early as possible and take the funicular to Hrebienok (1272m). From there, we would hike Tatranska Magistrala—a peripheral trail that crosses the whole mountain line from east to west—and spend the night at the refuge of Popraske pleso, one of the most beautiful tarns on High Tatras. Next morning, we would set for Koprovsky. Once on top, we would return from the same route to Popradske, and from there hike to Strbske pleso in order to catch the train back to Stary Smokovec. It was going to be a true adventure, and we couldn't wait!
Day 1
Stary Smokovec
The arrival at Stary Smokovec was not uneventful, since all the parking garages in town were full. We finally found a slot at an open parking lot near the train station where we could leave the car for two days. "The weather looks good," Veronika told me the moment she laid her eyes on the formidable mountain line which was overshadowing the small town. Indeed, there was no sign of rain and it was slightly overcast, but we were running late; it was already noon.
Stary Smokovec is the oldest mountain resort in High Tatras. There is something noble about it and you feel it the moment you set your foot on. It is the starting point for all kinds of hikes, trips and climbs, so it can get really crowded. Stary Smokovec is full of belle epoque charm and genuine central European architecture; aristocracy used to come here for its renowned spas. Hiking and mountain tourism was a favorite activity of the upper classes back then. Funny how times change.

One of the town's most iconic building is the Grand Hotel Stary Smokovec— a century old Art Nouveau hotel which has the architecture and similar ambience of Andereson's classic film "The Grand Hotel Budapest". Its charm and air of luxury still holds well. I haven't stayed there yet, but perhaps someday…
Hrebienok

The funicular is always crowded, and it's a good idea to be there at least 15 minutes earlier to get tickets. We could walk to Hrebienok (it's a 45 minute ascent) but since it was our first hike after some time, we decided to take it slow, to Marian's disappointment. We had two demanding days ahead of us.

High Tatras are beloved mountains for Slovaks, and in the funicular I could really see the anticipation on people's faces. Whole families with kids, groups of youngsters and pensioners; everyone was eager to put their foot on the mountain. It's a celebration of the great outdoors. People love and respect the Tatras, and I always get this feeling when I'm in Slovakia.

The place gathers many foreigners too. High Tatras are pretty popular and they will grow even more, since Lonely planet has named them: Best summer destination for 2019. This is one of the reasons why we always chose to go in autumn near the end of the season, and avoid weekends. The other reason is to keep away from the summer storms which are frequent, especially in August. Of course, a mountain is always a mountain, it can rain and snow any given day.

Once on Hrebienok, the crowd broke up and split to the surrounding trails. I remember the first time I set my foot on this small resort; It was going to be the most intense climb of my life. I was about to climb Priecne sedlo—a notorious passage known as one of the most challenging in Slovakia. Indeed it proved to be more than that.
Hiking to Popradske Pleso

We would hike west, along Tatranska magistrala. This trail runs along the mountain's south side. Most massifs in High Tatras have a transverse orientation in comparison to the mountain line, running from south to north. The magistrala runs across all these formations and the valleys between them, providing access to most of the climbing routes.

The trail to Popradske is steadily ascending for the biggest part. Initially, it goes through the forest of the south slopes, but as the altitude rises beyond the tree line, the tall and thin pines give their place to short bush vegetation and finally the green moss that always cover High Tatras' granite.

Our first waypoint was Sliezky Dom (1670m)—a hotel on the bank of Velicke Pleso, two hours from Hrebienok. In contrast to traditional Tatra refuges known as chatas which are made of wood and stone, this is a modern cement building. The fact that it is accessible by car make it pretty crowded, and quite expensive I would say.

We stopped by for a quick coffee, or at least that's what I thought, but by the time I came back from the restroom, I found a pint of beer in front of my seat! I would normally avoid alcohol while going up a mountain since it tends to kill my legs, but refusing a drink in Slovakia is like protruding your hand for a handshake in Japan. It's just inappropriate, and travel etiquette had to be maintained.

It was lunch time, so we went back to the trail and hiked west for fifteen minutes before finding a splendid granite boulder that could serve as a table for our picnic. Bread and local sausage (klobasa) taste heavenly when you're hiking.

Even though it was constantly uphill, the incline was gentle, and the mostly paved trail made our lives easy, at least most of the time. After an hour and a half, we were looking the magnificent view of Batizovske pleso (1884m) and its crystal water. From there, the road descended for a bit before elevating, once more, and passing bellow summit Tura, where we reached the highest altitude of the day (2044m). This was probably the most strenuous part of the trail, and I admit that I felt that pint weighing on my legs for a moment. The rest of the way was a constant decent; not easier to hike necessarily.

We were running a bit late, and it was well into the afternoon; something not unusual for our little company. At some point, a small crack appeared on the dense dark clouds that covered most of the west, and a fierce golden light passed through, washing Strbske pleso bellow, and all the plains to the south.

Being a photographer, I know that not all sunsets are made equal and this one was of the precious rare ones. The kind that you see three or four times a year and makes the whole world glow with a fiery red blaze. We were mesmerized and the fact that we were alone on the trail made the moment even more special.

To make things more surreal, ten minutes later, a Tatra chamois came down the slope as if to admire the view—stopping us in our tracks. Indeed the animal paid us no attention and for the most part seemed to be looking at the glowing lowlands bellow. Not believing my luck, I grabbed the camera and fearing that it wouldn't last more than a few seconds I started shooting immediately. Veronika talked to it with a calm voice and Marian tried to tempt it with a piece of bread, but the chamois was clearly not interested. After satisfying its curiosity, the animal started grazing around, still not paying us any attention. We were no more than fifteen meters away. After a couple of minutes, it turned around and with a few strides disappeared as abruptly as it had arrived.

Not long after, we stepped on the edge of Ostrva saddle (1966m) and laid our eyes on Mengusovska valley and the magnificent lake Popradske (1500m) for the first time. At the end of the valley, the lone summit of Koprovsky was calling us. This is one of the most beautiful vantage points in High Tatras, and especially that afternoon it was majestic. A long shadow was being cast across Mengusovska from Hrebeň Bašt—the huge vertical wall that rises on the west side of the valley for the whole of its length. The first peak of the wall—Patria, was ablaze from the last light of the day, and dark grey clouds were dancing on the glassy lake surface.

Hrebeň Bašt is consisted from a series of peaks. Patria is the first one, followed by another ten peaks; Satan in the middle being the highest and most known. At the end of this formation, a saddle that turns into a ridge connects Hrebeň Bašt to Koprovsky. Another two ridges diving the valleys bellow meet on the summit, giving Koprovsky its triangular pyramid shape.

We stayed in Ostrva saddle for half an hour, watching the sun going down. Half a kilometer bellow, Horsky hotel had its lights on, marking the final destination of the day and reminding us that we had one last steep decent before taking off our backpacks and resting. That trail is a series of zig zags on the north wall of Ostrva. It's pretty steep and layered with smaller loose rocks, but it's well protected and doesn't pose any safety problem.

Forty five minutes later, we were standing in front of the reception, watching the guests coming and going. It's a beautiful wooden hotel, built right on the north shore of Popradske pleso. It's nothing fancy, and it doesn't have to be, since it's one of the most scenic and beautifully located hotels you'll ever laid your eyes on. Many walls are decorated with fantastic photographs from Ladislav Janiga—one of Slovakia's most prominent landscape photographers whose biggest body of work has been shot on Tatras. A warm plate of goulash followed by a shower was exactly what the doctor had ordered. We slept like logs.
Day 2
Popradske Pleso to Koprovsky
Next morning I woke up before sunrise to shoot some landscape as usual. I was hoping for fog over the lake but that wouldn't be the case. Still, the atmosphere was very clear and the lake doesn't really have a bad side. I wished I had brought my extra wide lens but there is only so much weight I can carry in my backpack.
I love Popradske. I could stay there for a week and do nothing more than reading on the gorgeous porch while sipping tea, occasionally watching the reflection of the surrounding vistas on the tarn's crystal waters getting interrupted by the ducks.
This place seems so small in the belly of Mengusovska valley the way it is surrounded by those towering massifs. Feels like a microcosm a million miles away from everything. Magical.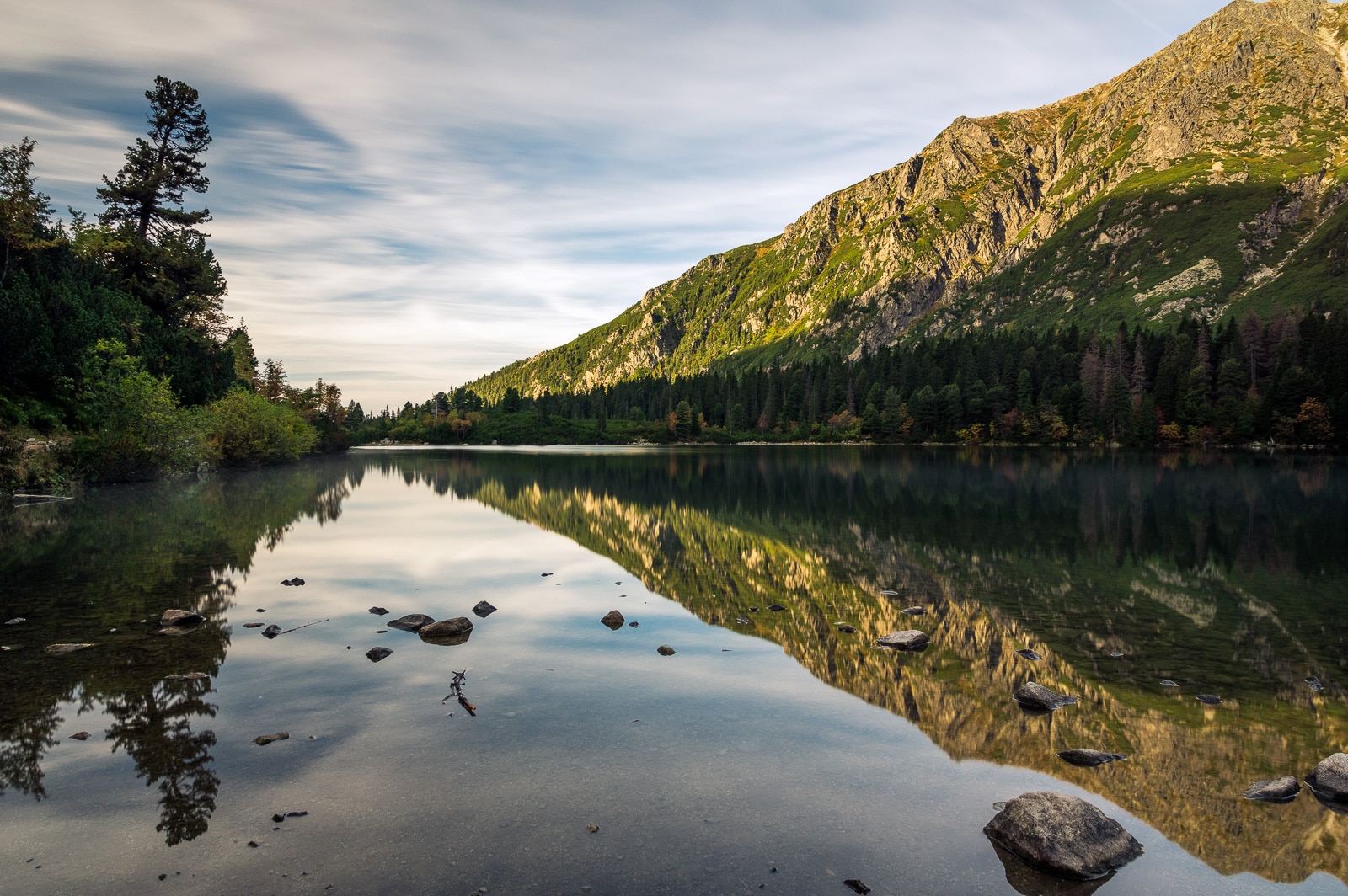 Back to reality, after a small breakfast and coffee, we checked our gear, packed the backpacks and left for Koprovsky. The day was sunny so we set early to avoid climbing when the sun would be at its strongest. The trail begins outside the refuge and goes east through a small forest. It's the way to Strpske pleso before reaching a crossroad where the trail for Koprovsky and Rysy leads north, deeper into the ascending valley.

Next to the crossroads is a big box with several bags full of provisions. People going to Rysy can carry them to the refuge which is located near the summit, in order to help the people there. Most supplies are lugged by local mountain porters who are the last of their kind in Europe. Some, can carry more than 100kgs on wooden frames strapped on their backs. Food, drinks, fuel for heating, toilet paper on the way up and garbage on the way down; everything is being carried by these stout fellows. During winter as well. They are employed by the chatas (refuges) who need them in order to run on a daily basis. As for the volunteers who carry a little something–they get rewarded for the kindness with one hot cup of tea.

The first section is a mild ascend initially through forest, but gradually the vegetation becomes shorter and thinner till it's being reduced to just grass. One and a half kilometer down the trail we crossed Hincov stream on a small wooden bridge (1665m) and stopped there for brunch. The imposing wall of Hrebeň Bašt seemed colossal above us.

From there, the ascent became much steeper and for the next kilometer we gained almost 300 vertical meters to a plateau with two lakes—the small and big Hincovo. We stopped there for a break before the next push. I looked at Koprovsky which was still four hundred meters above us but looked more like a thousand. Mountains have this—they look impossible from beneath and too easy from the top.
Koprovsky Stit

The first step was to climb onto Koprovsky pass (2180m) which separates Mengusovska and Hlinska valleys, connecting Koprovska peak with Koprovsky summit. This is the steepest part of the climb. But on the bright side, the trail is very good with zigzags and even stairs made from wooden frames and stone.

Once up there, we stopped for a few minutes to catch our breath. On the way up, the saddle turns into a ridge which is narrow at points but never really exposed. The views are amazing from up there. Hlinska valley was like a highway with low cloud formations racing from east to west and over our heads.

At some point midway, I looked at the peak in front of us and thought "we are here", but it was just a small peak before Koprovsky. The real summit stood tall and formidable behind it, intimidating us for a moment with the height difference and the ruggedness of its south face.

The more we advanced, the more the ridge became narrow and rough, but remained always safe, with the exception of one slightly exposed part where the width was something like a meter and a half. At that point, the two lakes beneath looked like two small gems. The last section was quite steep but the big chunks of granite helped. We had to scramble some parts but nothing major. A red and white circle on the stone marked the summit, and sooner than later we were sitting on top of Koprovsky (2363m).
The moment we set our foot on the summit, my tiredness disappeared. And the few remaining thoughts and worries that had refused to unclench my mind since I had arrived on Tatras, also vanished, or rather stayed behind with all the mundane earthly disturbances bellow. We were in the heart of High Tatras. There were only peaks and valleys as far as my eye could reach.

The top is long and narrow, layered with sharp granite slabs. Multiple hundred meter falls surround the summit from every side except for the south. It was a bit crowded but the majority of people were sitting and admiring the awe-inspiring nature all around us. Slovak people have a certain casualness when it comes to mountains and climbing; especially the middle aged ones. They may climb for hours just for the joy of sitting quietly and having a can of beer on the top. Then, they put the can back to their backpack and take the way home. No cheering, or high fives, just the joy of being there. A real mountain culture that has its roots deep in the history of the country. I was happy to see people over seventy years old scrambling the granite.

From up there you have a clear view of Hlinska and Mengusovska valleys to the east and west respectively, as well as Temnosmrečinská with its two great lakes to the north. Some of most iconic summits of High Tatras are also visible: Rysy and Vysoka to the east, Satan to the north as well as the tip of legendary Krivan peeking out from the south. The visibility was changing rapidly from a few meters to kilometers all the time.

I can't think of a better place to have a lunch after a tiring but very fulfilling day. We spent almost an hour there, eating and talking with the climbers. After sometime I was really eager to launch the drone and get some shots but I didn't want to spoil it for the rest. Eventually Veronika gave the solution. She went around and asked every single person if it was alright. They all said yes, and I was able to shoot some amazing footage! That was really the cherry on top.

The way back to Popradske and Strbske was long, but a sweet euphoria and the golden light of the setting sun accompanied us on the trail of return. Every now and then I glimpsed back to see Koprovsky, standing immovable and perpetual covered in white clouds.
The joy of summiting has always had a self-actualizing quality for me. I can never stop thinking how intimidating a mountain looks from bellow and how small everything else looks from the top. Mountains are an acute visualization of life. Most of the times they look difficult or even impossible to conquer but like any other goal you just have to take the first step and keep going.

The fatigue and all hardships wear off as soon as you reach the top. You can't stay on the summit forever and even worst, a misstep can lead to an abysmal fall, but there is always another mountain waiting to be climbed.
When to Hike
Hiking in High Tatras is possible from 15th of June till the 31st of October. A few winter trails remain open for cross country and alpine skiing around Strbske pleso and Stary Smokovec. For more details about the winter closing you can read the rules of TANAP (national park authority).
The best time to go is probably September and October because of the lower rain probability. Of course it can rain or snow any day especially on higher altitudes.
Where to Stay
Stary Smokovec and Strbske pleso have a plethora of guesthouses and hotels for every budget. At Popradske the choices are only Horsky Hotel (for bookings) in which I've stayed and can say that even though it is relative old and plain, it's clean and got everything including a very decent restaurant and Majlathova (for bookings) cottage in case you need something more luxurious and of course more expensive. They both have exactly the same view.
How to Get There
The closest airport to High Tatras is Poprad though there are not as many regular flights landing there as charters. The closest international airports are Bratislava and Kosice but if there is no other alternative, Krakow in Poland is not very far either.