Deep in the Small Cold valley, resting at the edge of a cirque, Teryho chata has been weathering the abrupt summer storms and blinding winter blizzards of High Tatras for more than a century. Built in 1899, by the Hungarian Carpathian Association, this mountain refuge was named after the doctor and avid climber Edmund Tery, who alone conceived and promoted the idea of building it. Today, Teryho chata is a true icon of Slovak mountain culture, and a pilgrimage for all sorts of hikers, climbers, and alpinists. It's the pinnacle of the Slovakian pride.

Sitting above the clouds at 2015m and surrounded by jagged peaks, the refuge offers breathtaking views to the valley below and even lower, to the plains surrounding the city of Poprad. The tarns scattered around it are known as the Five Spis lakes, and the reflection of the rugged landscape on their cold dark water defines the alpine charm of High Tatras in a single glance.
Judging from the terrain, one would think that the trail stops at the refuge, but there are two trails leading out of the valley via an equal number of passes. The first is Priecne sedlo (saddle), one of Slovakia's notorious via ferratas (no safety line), and it leads to Velka Studena dolina (Great cold valley). The second is Sedielko, a less abrupt passage to Zadna Javorova valley, and eventually the scenic village of Tatranska Javorina.

In wintertime, both of them are closed for everybody except registered climbers and ski alpinists. You can still hike from Hrebienok to Teryho chata though. It's a well-signed and pleasant trail; straightforward and well worth the effort. Having said that, winter conditions always call for extra alertness and good preparation.
Stary Smokovec to Teryho Chata Winter Trail

Difficulty: Moderate
Length: 7.4km
Elevation Gain: 1150m
Conditions: Hard snow or powder. Weather and avalanche risk forecasts are crucial.
Gear: Micro spikes are the bare minimum. Crampons and trekking poles with snow baskets will help too. For more details on winter gear read this hiking guide.
Useful Info
Mountain Rescue Tel. : 18300
Preparation for the Hike
I organized this trip along with a friend who would travel from Greece just for the weekend. We had decided to set Saturday morning with the first light from the town of Stary Smokovec and be at the refuge by lunchtime. I had already arranged for us to spend the night there, something I wanted to do since I saw Teryho chata for the first time on my way to Priecne four years ago. Luckily, it hadn't snowed for more than a week, and the old hard-packed snow would be perfect for hiking. The forecast for Saturday was clear skies and for Sunday the same, except for the strong breeze in the morning. The avalanche risk was low. We couldn't have asked for better conditions.
On the Road to High Tatras

The schedule was tight. I picked up Theodoris from Bratislava airport at four in the afternoon, and by half past nine, we were at the foot of High Tatras, outside a guest house in Pod Lesom. It was a cozy place that went by the name Penzion Centrum. We dropped the luggage and run back to the car. I knew that the only place still open for dinner would be Stara Mama in Tatranska Lomnica, and that's where we headed. It was ten sharp when we stepped in, just on time to order. The waitress gave us the evil eye, but the duck and sour cabbage were an indulgence for the palate.

It was still night when the alarm went off. We had checked our gear before going to bed, so five minutes after getting up, we were in our boots. After a three-minute drive, we arrived at Stary Smokovec. The time was half past six. As the sun rose, it caught us walking on the small snake road leading to Hrebienok, next to the funicular rails. From the get-go, we had to put micro spikes on; this road is used for sledding which makes the snow very hard and icy at points. Forty minutes later, we were standing outside the small ski resort. Hrebienok is the beginning of many trails, including the one to Mala Studena dolina (Small Cold valley in Slovak). Many people were going up the mountain because of the weekend. Some on foot, others on skis.

We took the green trail, and an hour later we reached Zamkovskeho refuge, at the mouth of the valley. It was about time for coffee and a quick snack. The weather was perfect, but it was still winter, ten minutes outside and you were freezing. We moved inside. Zamkovskeho is a typical Slovak refuge: wooden interior, strong heating, people drinking tea, and rum. It was warm and comfortable. Time flew, people came and left but we were still there, it was time to move.
We got our packs and went outside just on time to see Teryho chata's mountain porter passing by. His huge wooden-frame backpack protruded more than a meter above his head and was loaded with big grey polystyrene boxes, probably to prevent the goods from freezing. On the top of the last box, the porter's backpack was hanging from its straps, looking like those tiny women's evening backpacks, in comparison.

We were marching deeper into the valley, along a stream that was flowing calmly between the trees. The further we went, the less water was flowing. By the time we crossed the tree line, it was entirely frozen and buried under a thick blanket of snow that covered the whole valley floor. We could now see the cirque high at the end of the valley, and a tiny spot at the edge—that was Teryho Chata. A cirque is an amphitheatrical cavity of glacial origin. When the glacier melts, after having eroded a good part of the mountainside, what is usually left is a plateau with one or more glacial lakes.

The green trail goes along on the right side of the u-shaped valley, and stays there for most of its length, crossing the valley at the end where the elevated cirque starts and forming a zig-zag on the flat slope to the left which leads to the plateau of the Five Spis tarns.
In winter though things are a bit different. After passing the tree line you have to leave the trail and cross the bottom of the valley straight to that flat slope which you climb head-on, rather than zig-zagging. The winter trail is marked with long sticks stuck in the snow, you really can't miss it.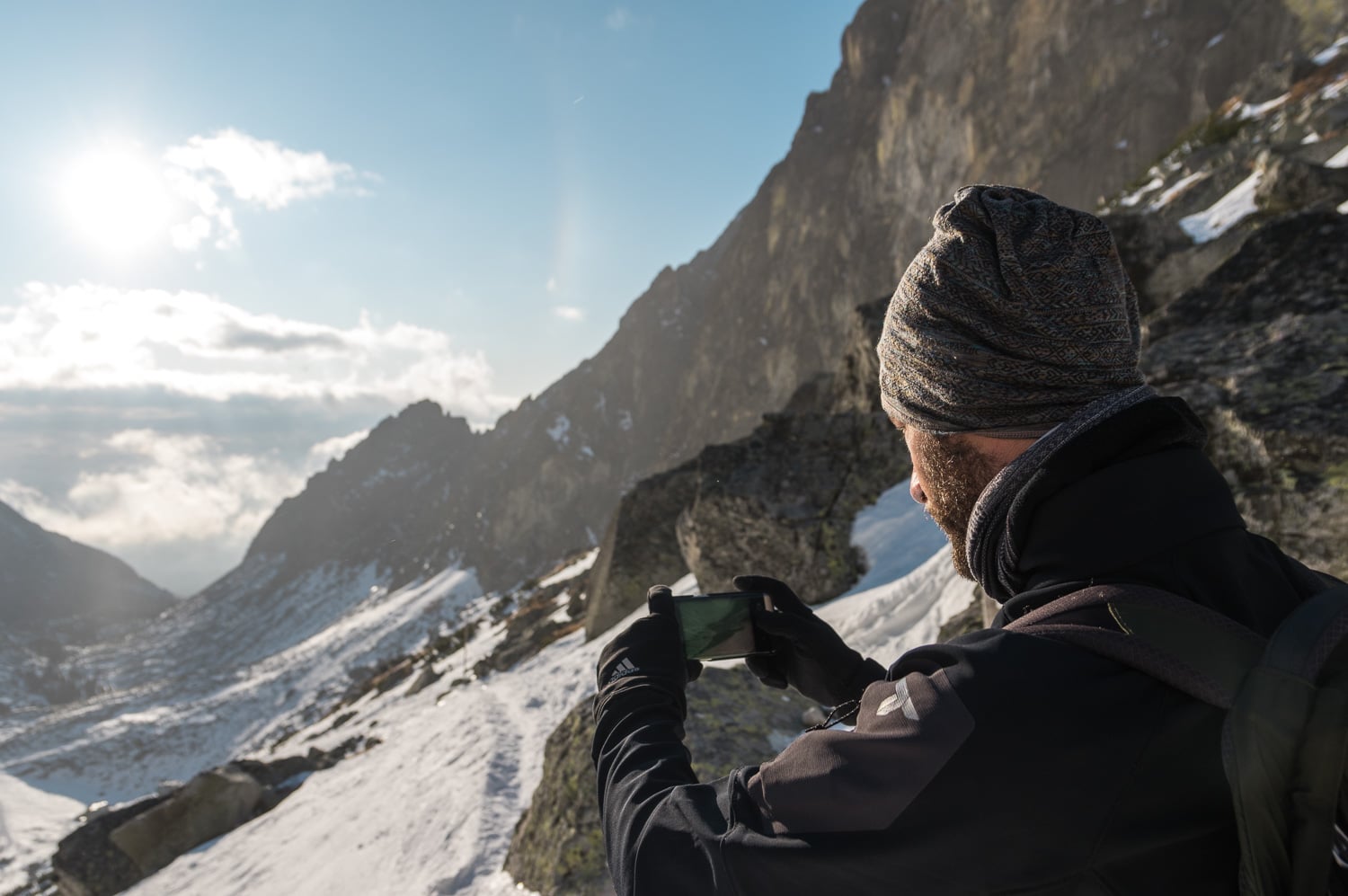 While walking on the valley floor, we could see at the far end a long line of people going up like ants, one behind another. Had this been layered with deep fresh snow, it would have been a nightmare to climb on, but thankfully it wasn't. In front of us, was a group of people with their wolf hybrid pets, or something like that. For some reason, they thought it was a good place to take their muzzles off and let them run wild. One of them came to Theo from behind and took a small bite of his bottom. Not cool.

Soon, we were standing at the foot of the slope, looking up. It was steep and it was long but that's why we were there. Going up was strenuous, but grip wasn't a problem. Frequent climbing activity had created thousands of little footholds and stairs on the hard snow, making climbing merely a subject of quadriceps endurance. A few breaks and many vertical meters later, we would be standing at the end, looking at the final section, on our right, that would get us up on the cirque.

Most people were on spikes or crampons but few brave or rather reckless ones wore nothing. It was a terrible idea, and no more than five minutes later, we would see that recklessness in action, when we had to catch a woman sliding on her back struggling to stop herself to no avail. She was trying to brake with her hiking poles, but these are no snow axes. At least not unless you drop one and try to plant the other with both hands above your head, hoping to create enough drag to stop you. She probably learned her lesson after that.

Around midday, we caught the first glimpse of Teryho chata. It looked like a fortress sitting on a granite lump. Fifty tons of material, all carried on the backs of mountain porters, more than a century ago. It had taken us around four hours from Stary Smokovec including our, rather long, break at Zamkovskeho chata.

The front porch was packed with hikers, climbers, and alpine skiers. We dropped our backpacks at the foyer which overflowed with all kinds of gear and went upstairs to the restaurant for a quick plate of kapustnica (local soup with cabbage, sausage, and lots of paprika) and a pint of beer.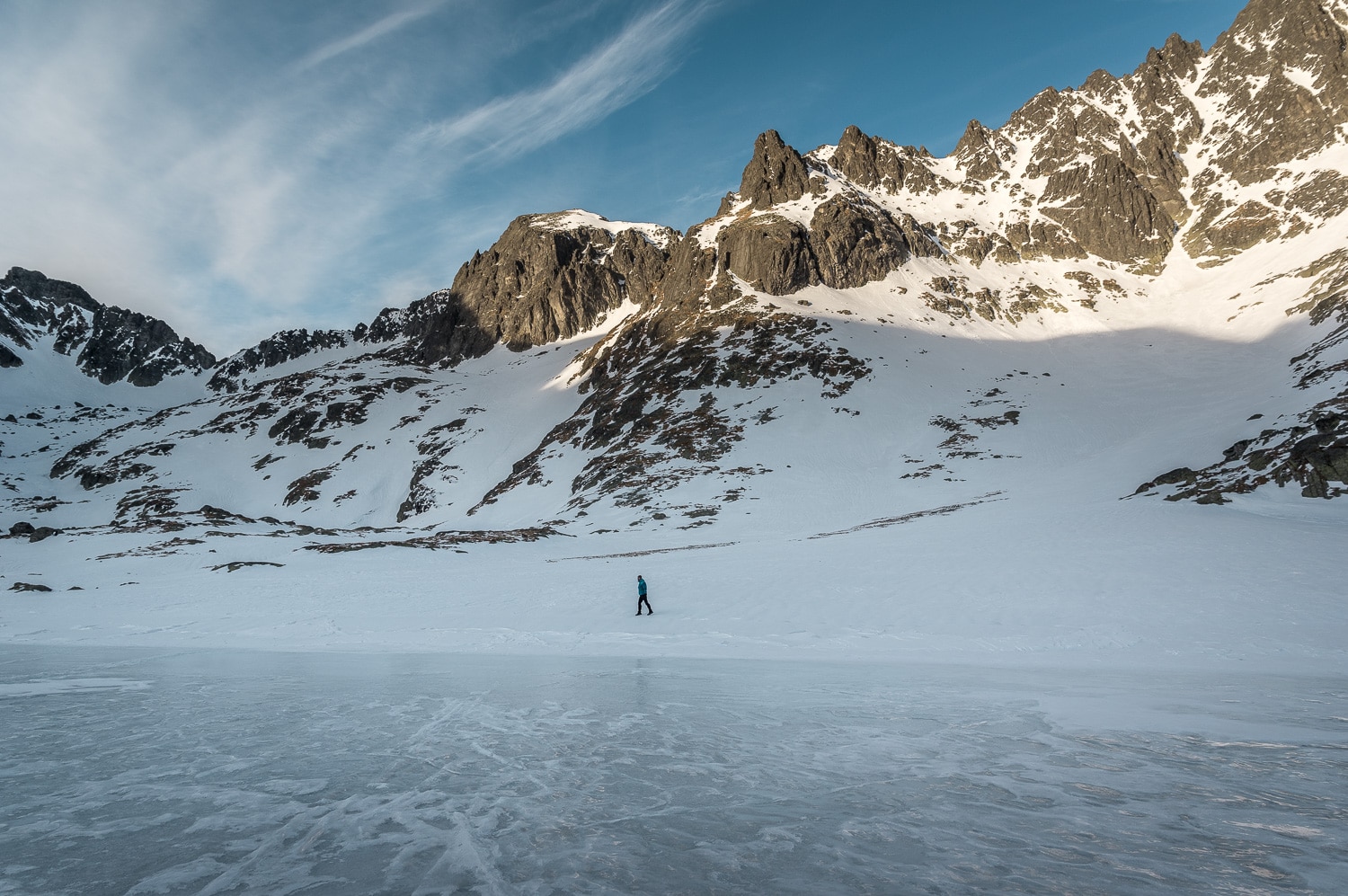 We spent that afternoon walking on the frozen lakes, shooting the surrounding peaks, and watching people climbing some extremely steep slopes only to ski them down in seconds. The air was cold but entirely still, that's rare in the mountains. I saw skiers climbing to Priecne Sedlo too. They would ski down the other side and return to Hrebienok through the Velka Studena dolina (Great cold valley), quite a ride.
A couple of hours later, the refuge's porter arrived with his precious load, receiving a standing ovation as is accustomed. The porters enjoy a demigod status in Slovakia, and rightly so. Carrying on average 60kg up there (sometimes even more) is no joke. It's a heavy beer keg, but someone has to lug it. And their job doesn't end on arrival, they still have to work in the refuge, helping in the kitchen and doing choirs till the next day, when they have to carry the garbage back down. Naturally, there are no garbage cans around the refuge. Everybody is expected to take their trash with them.

The sun was setting by four, and I was hoping for a cloudless night to shoot some astrophotography. It didn't happen. There were patches of clouds scattered around, and to make things worse, they were reflecting the light pollution coming from behind the mountain tops from both Slovak and Polish sides. Well, on the good side, I wouldn't have to spend another hour outside. The wind had started to pick up gradually, and the temperature was -5° Celsius already. It was still beautiful though.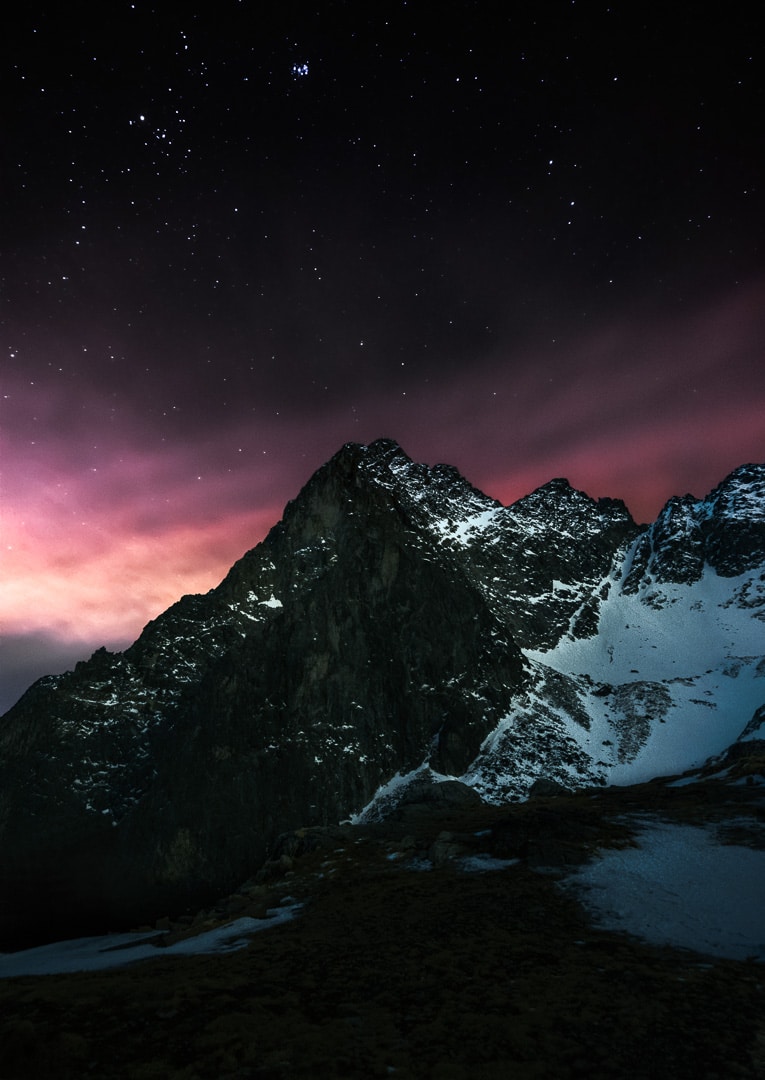 Teryho chata was accommodating more than 30 people that night, and since we hadn't booked on time to get a bed, we would sleep on mattresses laid on the restaurant floor. It reminded me of my army days and the barracks. It wasn't bad though. Theo was surprised by some women going around in their underwear. Nudity is not a taboo in Slovakia. It is usual for people to take off their clothes before getting into the sauna or the jet pool, and there are spas where swimming suits are not even allowed, and you can only cover with a small sheet. It makes an impression to foreigners at first, but it's just a cultural thing, you get used to.
The Sunrise

The staff woke us up at six o'clock. We got dressed quickly and run outside for the sunrise—the most beautiful time of the day in Teryho chata. To my joy, the valley was perfectly clear and at the end of it, a thousand meters below, was a thick cloud blanket covering all the plains south of High Tatras, including Poprad. It was like Slovakia had disappeared and only the mighty Tatras stood like an island in a sea of clouds while the first rays slowly set the horizon ablaze. These are the precious moments that one can only experience on a mountain. Everybody was on that porch, with a coffee at hand, mesmerized by the spectacle. No one was talking, the only you could hear was the breeze coming down from the high peaks. Sometimes I think that I could live up there forever.