Larnaca is the third biggest city in Cyprus which in turn is the third biggest island of the Mediterranean Sea. Boasting golden beaches, a delicious food scene, and a surprisingly vivid nightlife, Larnaca is not your average European destination. The city has a Middle Eastern essence and its proximity to the turbulent region is evident on every corner. Churches, colonial buildings, mosques and labyrinthic mahalas (Turkish neighborhoods), they all tell stories of clash and coexistence that have defined the city for the last one thousand years. With an abundance of things to do, Larnaca may be small, but is definitely not boring.

Surrounded by crystal waters, enjoying mild winters and warm sunny days, this small town is perfect for slow travelers and people who appreciate serenity, and genuine character over the buzzing rhythms of the nearby Ayia Napa or the pretentiousness of Cyprus' bigger cities. It is also the place I've been calling home for the last fifteen years, but I've tried to be as objective as possible.

Larnaca, like many other coastal cities in antiquity, was divided between the main settlement, which was near the salt lake and a small port by the sea—called a "skala" in Latin, a term still been used today by the locals. For many years, it had been disregarded by most travelers as a dull town of no interest that just happened to be next to the country's biggest airport. Fortunately, this notion has weakened in the last decade, and the city has risen as a quality destination for those looking for a place by the sea and genuine hospitality.
So, if you dislike the hassle that touristic destinations come with, but still want a place where everybody speaks English and you will be treated as a local, then you should definitely look into Larnaca. It is the perfect place to spend some time on the beach while still offering great sights to visit. It's also the kind of place where you will have met a bunch of locals by the end of a week—making you feel like you belong there. Without further ado, here are some amazing places to visit and things to do in Larnaca.
Things to Do in Larnaca
The Places
Finikoudes Beach
The city's iconic promenade has taken its name after the tall palm trees (finikies) that line the sidewalks of its stone-paved avenue. Rows of tables with people enjoying coffee or lunch, escaping the mid-day heat while letting their eyes rest on Larnaca bay across the buzzing street. It's constantly crowded with beachgoers and swimmers all year round. If you haven't strolled Finikoudes, you haven't been to Larnaca. Don't miss a walk on the marina's long wooden pier, and to visit the castle of Larnaca at the end of the beach, right on the sand.
Mackenzie Beach
Bigger than Finikoudes and a bit less touristy, the other beach of Larnaca has evolved into the place to be during the last ten years. The old fish taverns that were once crowding the beachfront have almost disappeared and new hip bars and clubs have taken their place. Its shallow waters can be almost lukewarm in the summer and they don't get much colder before November. If you want to find a beach bed during summer weekends, better be there till ten in the morning.
Salt Lake
Hands down the best sunset in town. The salt lake is the first thing travelers see on their way from the airport. An amazing mirage-like landscape with its still waters reflecting the temple of Hala Sultan, and the surrounding palm trees making them look like an isolated island. The salt lake of Larnaca is a protected ecosystem formed by four lakes. It holds water from autumn to early summer, though in exceptionally rainy years it doesn't dry. The best time to visit is between November and March when flamingos flock the place for the winter, almost making the lake pink. You may consider walking the trail to Larnaca's aqueduct on the northern shore, which is also great for bird watching.
Address: Artemidos Avenue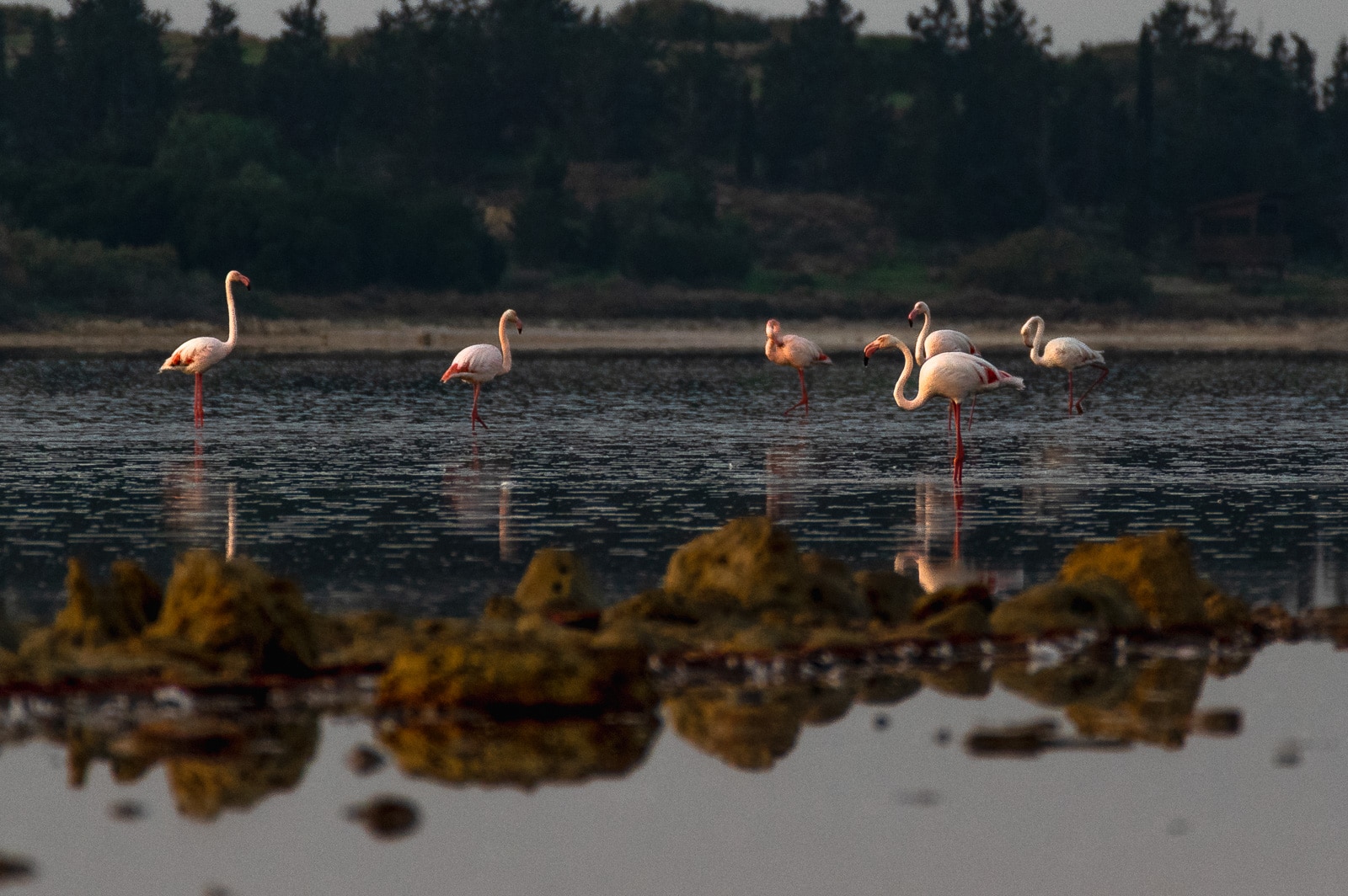 The Old quarter
The old quarter of Larnaca (Laiki Geitonia) is—like in many other cities—a non-residential area full of bars and street food joints. Most of them are open every day, but the place really comes to life during weekends. Strolling its narrow paved alleys is a must, as is sitting in one of its hip places for a late coffee or even better an early cocktail on Sunday afternoons.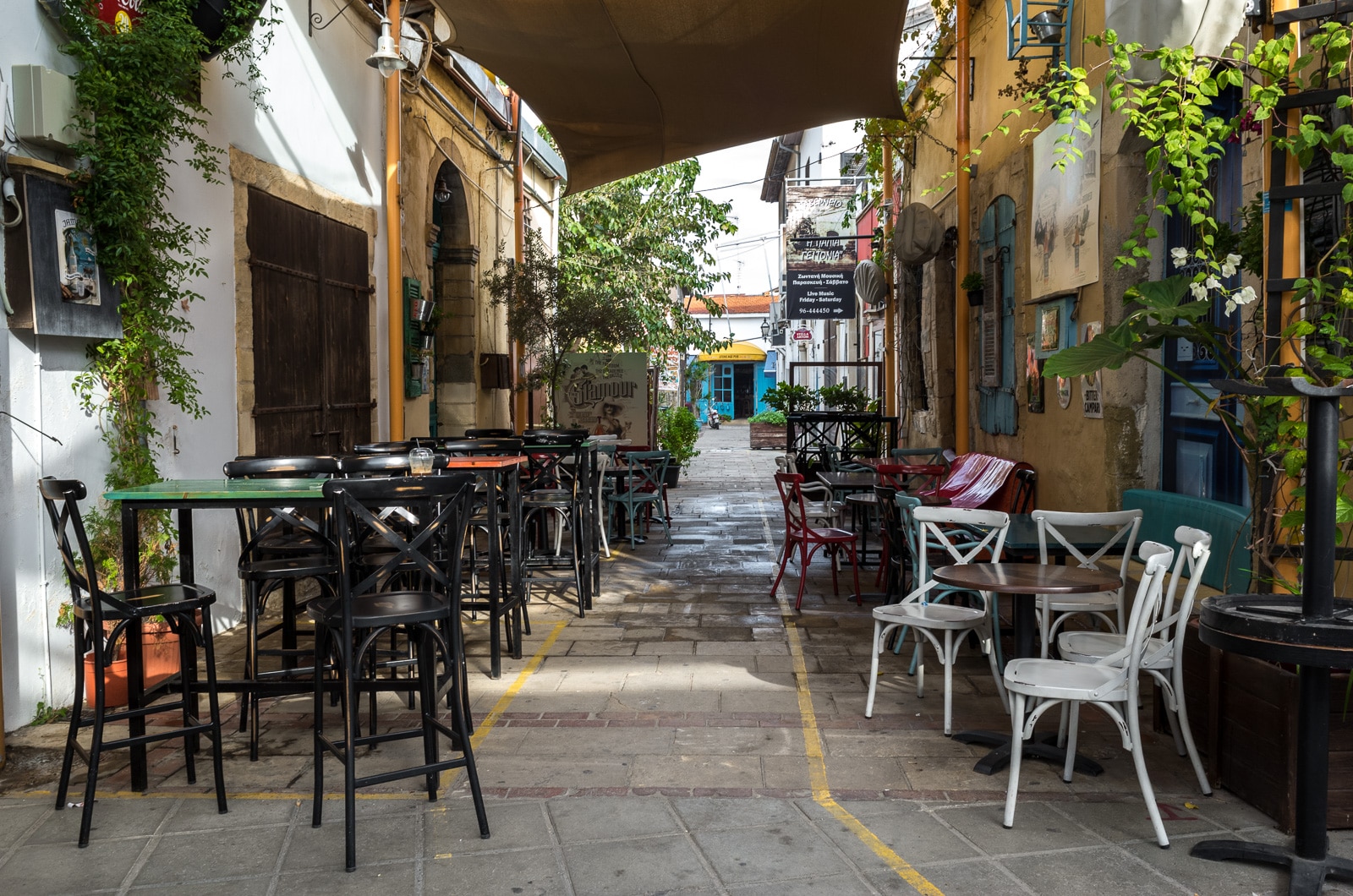 The Sights
Castle
The castle of Larnaca—which is more like a fort actually—was built in the 9th century by James I, the then king of Cyprus who was of French descent. Later, it was modified by the Ottomans who gave it the form we see today. It is at the end of Finikoudes beach right on the sand and except for the amazing views from the top of its walls, it contains a small museum. Sometimes during summer, events and concerts take place in its courtyard which can be interesting.
Address: End of Athinon Ave.
Saint Lazarus Church
This old church was built back in the 9th century and its catacomb is allegedly the resting place of Saint Lazarus. According to the local tradition, when Lazarus fled Judea, he sailed to Kition where he was ordained bishop and spent the remaining of his days. The triple domed temple is one of Larnaca's most iconic buildings and is definitely worth a visit, if only from an architectural point of view.
Address: Faneromenis & Ayiou Lazarou
The Mosque of Umm Haram (Hala Sultan Tekke)
Umm Haram was the foster mother of Prophet Mohammed himself and she died in an accident almost pretty soon after she set her foot in Cyprus. This magnificent temple was built in the 18th century around her grave on the bank of Larnaca salt lake and is one of the holiest places of Islam and an important pilgrimage site. It is surrounded by beautiful gardens and is open to everyone, just remember to remove your shoes before going in.
Address: Tekke road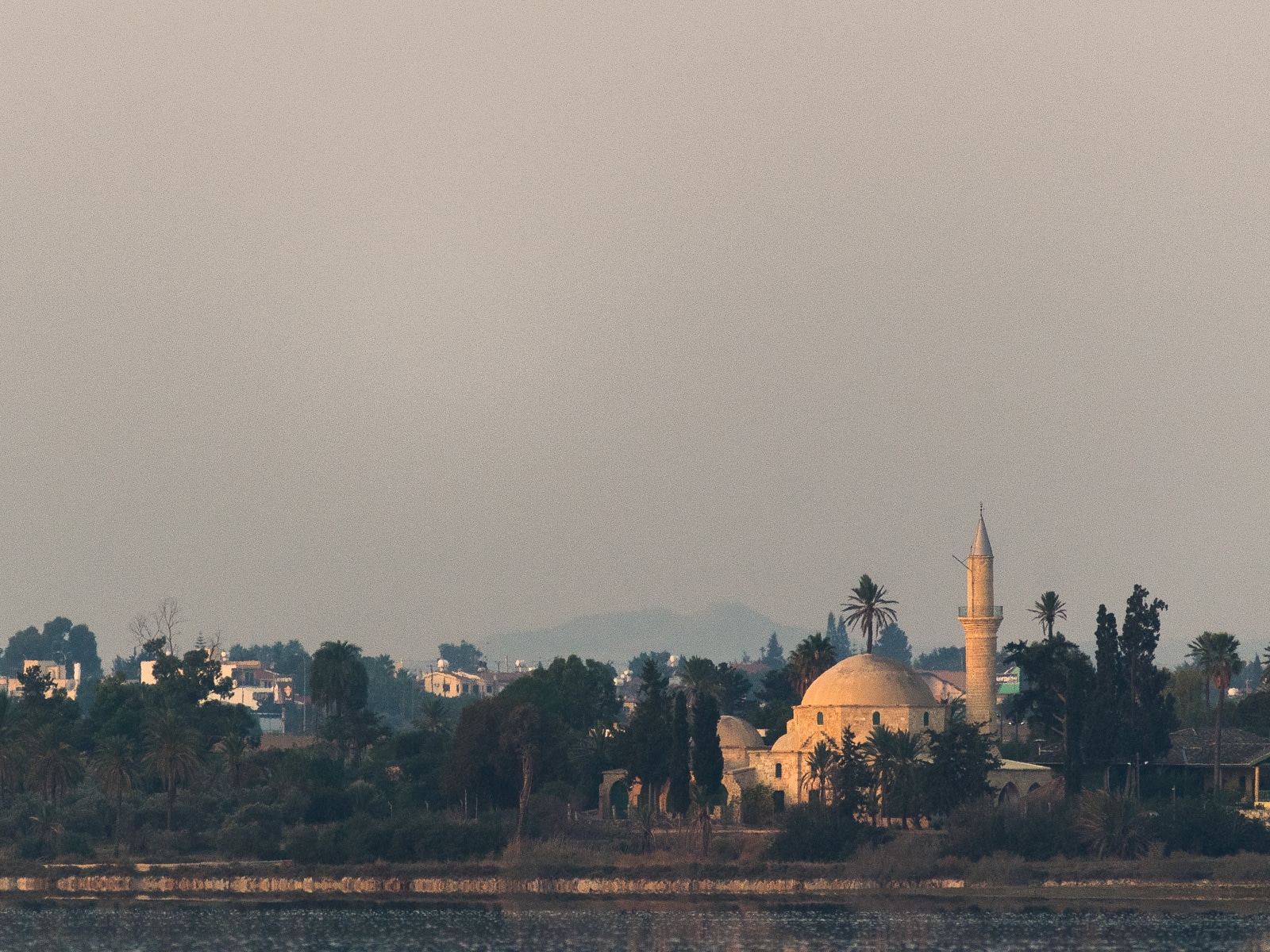 Aqueduct (Kamares)
A Roman-style aqueduct that was built by Bekir Pasha back in 1746 and was used to bring water to Larnaca until 1939. Today less than half of its arches survive but it's in pretty good shape and is worth a visit. It's located on the outskirts of town on the road going to Limassol near Cineplex cinemas but you can also walk there by using the salt lake trail.
Address: Larisis & Van Dyke
Zenobia
One of the most beautiful and accessible shipwrecks in the world, Zenobia is constantly featured in the top ten shipwrecks to dive in most lists of the kind. As was the case with Titanic, Zenobia suffered the ill fate of sinking during her maiden voyage while sailing from Sweden to Syria. The ship was fully loaded with all sorts of cargo, from trucks that now lay scattered on the seabed to frozen animals and eggs. The wreck is located one and a half kilometers from the shores of Larnaca and is visited by numerous divers every day.
Pieridis Museum
A small museum hosted on the ground floor of a beautiful colonial mansion near the main promenade. Its collection includes artefacts from the Neolithic to Medieval ages, including cartography and glassware collections. It's a great place to be introduced into Cypriot history within an hour.
Address: Zinonos Kitieos 4
Where to Eat in Larnaca
Militzis
A great tavern specialized in traditional Cypriot specialties like "ofto kleftiko" (slow-cooked lamb), tavas and my favorite, pork in wine. This is a locals' place which means grade-A raw materials, massive portions, and reasonable prices. If you're a meat-lover, this is the place to be. It's open every day.
Address: Piale Pasa
Tel: 24 655867
Eu Kouzin
Traditional homemade Greek and Cypriot cuisine, cooked on grill and pots. Antonis, who's from Epirus makes a mouthwatering moussaka, delicious lamp fricassee and amazing liver with olive oil and oregano among others. The portions are great and the prices reasonable. Open every day except Sunday.
Address: Kimonos 3
Tel: 70 003336
Falafel Abu Dany
If you want to taste Middle Eastern cuisine or you're vegan, you can't go wrong with Abu Dany. A tiny joint with great falafel (I love the grilled one), amazing hummous and pita, baba ghanoush (grilled aubergine dip) and many more. Oh, and definitely try the ginger lemonade.
Working Hours: Every day except Sunday, 09:30 to 19:00
Address: Grigori Afxentiou 10, Akamia Building
Tel: 24 400669
Hobos Steak House
Right in the heart of Finikoudes beach, this is the best steak house in town. You can't go wrong no matter which steak you choose and the cooking is always spot on. You should try the rocket salad with haloumi cheese, as for wine to pair with your meat, I would propose trying the local variety of Maratheftiko which yields a great full-bodied red.
Working Hours: Monday-Saturday 16:00-00:00 & Sunday 12:00-00:00
Address: Athinon 14
Tel: 24 652584
Big Bun
A small place in the old quarter with a variety of juicy burgers and pulled pork buns to choose from. Their cheese and bacon fries are awesome and if you don't feel like going out, they deliver. They cooperate with Savino rock bar so you can enjoy a burger and your beer at the same time.
Working Hours: Tuesday to Thursday, 12:00-23:00/ Friday to Sunday, 12:00-00:00, Monday Closed
Address: Kleanthi Kalogera 39
Tel: 24104467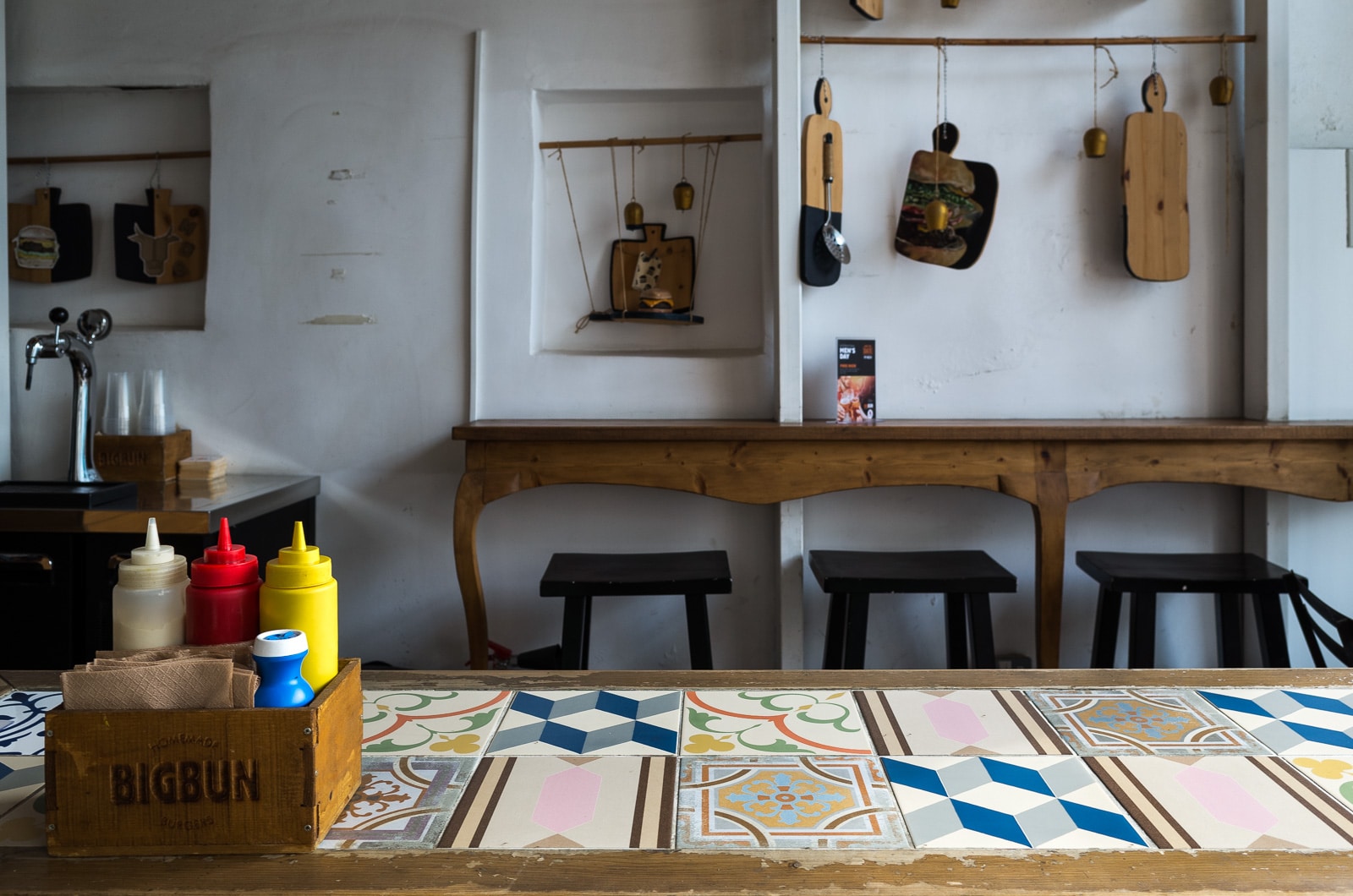 Night Out
Savino Rock Bar
A true institution, this classic rock bar has been nurturing youngsters since 1990. Its owner, Christos aka moulos (which means mule), runs the place in a very casual fashion and has created a warm space with a homey atmosphere—something reflected on the patrons as well. The bar features a vast collection of beers and almost every drink you could ask for. It's open every single day of the year and if you'll only have a single drink in Larnaca, it should be there.
Address: Watkins 9
Tel: 24 620861
Ammos
Summer beach bar on Mackenzie beach that has gone from strength to strength in the last ten years and is probably the best on the island nowadays. Opening from the morning, this is a great place for a freddo cappuccino and sun tanning. For lunch try its amazing octopus and for dinner the sashimi salad with extra chucka ika. The party begins early in the night and goes till the early morning hours.
Address: Mackenzie Beach
Tel: 24 828844