Zelene pleso means "green tarn" and that's exactly the hue of its crystal clear waters. Located at the end of Bielej Vody valley, this small mountain lake is surrounded by towering peaks that soar one kilometer high above the valley, casting their long shadows on its floor for the biggest part of the day.
On the northern shore, sitting on slightly higher ground is an ochre colored hut—the Chata pri Zelenom—which has been sheltering mountaineers for more than a century. Previously known as Brncalova chata, this mountain hut's long picnic tables are usually occupied by all sorts of climbers and hikers who go there to see the lake or are just passing by on their way to central Tatras.
The Trail
Distance: 10km
Altitude Gain: 670m

The trail to Zelene pleso is the perfect short hike if you happen to be in High Tatras but don't have the time needed for a full-day hike. It's minutes away from the town of Tatranska Lomnica and can be done on foot (around 2.5 hours) as well as on a bike.
The starting point is right on the main country road—that runs along the foot of High Tatras—in a location called Biela voda parking. From there, a forest road along a small stream that flows from Velke Biele pleso leads deeper into the valley . Many parts of the route are covered with dense forest providing shade and coolness during the hot days.
Depending on the day, the trail is might be busy with hikers but most of the time you will only be accompanied by the leaves' rustling and the water's burble. The marking is flawless as in whole Slovakia and the possibility of losing the trail is very slim (unless you're hiking it in winter and snow). Zelene pleso is exactly at the end of the valley which is abruptly stopped by a huge wall of peaks. Lomnicky, Kezmarsky, Cierny, Kolovy and Jastrabia are all more than two thousand meter peaks.
The two hectare lake probably looks like a pond from the top of those peaks. Having a stroll around the lake is a must, as is the hot soup at the refuge accompanied (if you're adventurous) by a pint of beer or a Radler (beer with lemonade).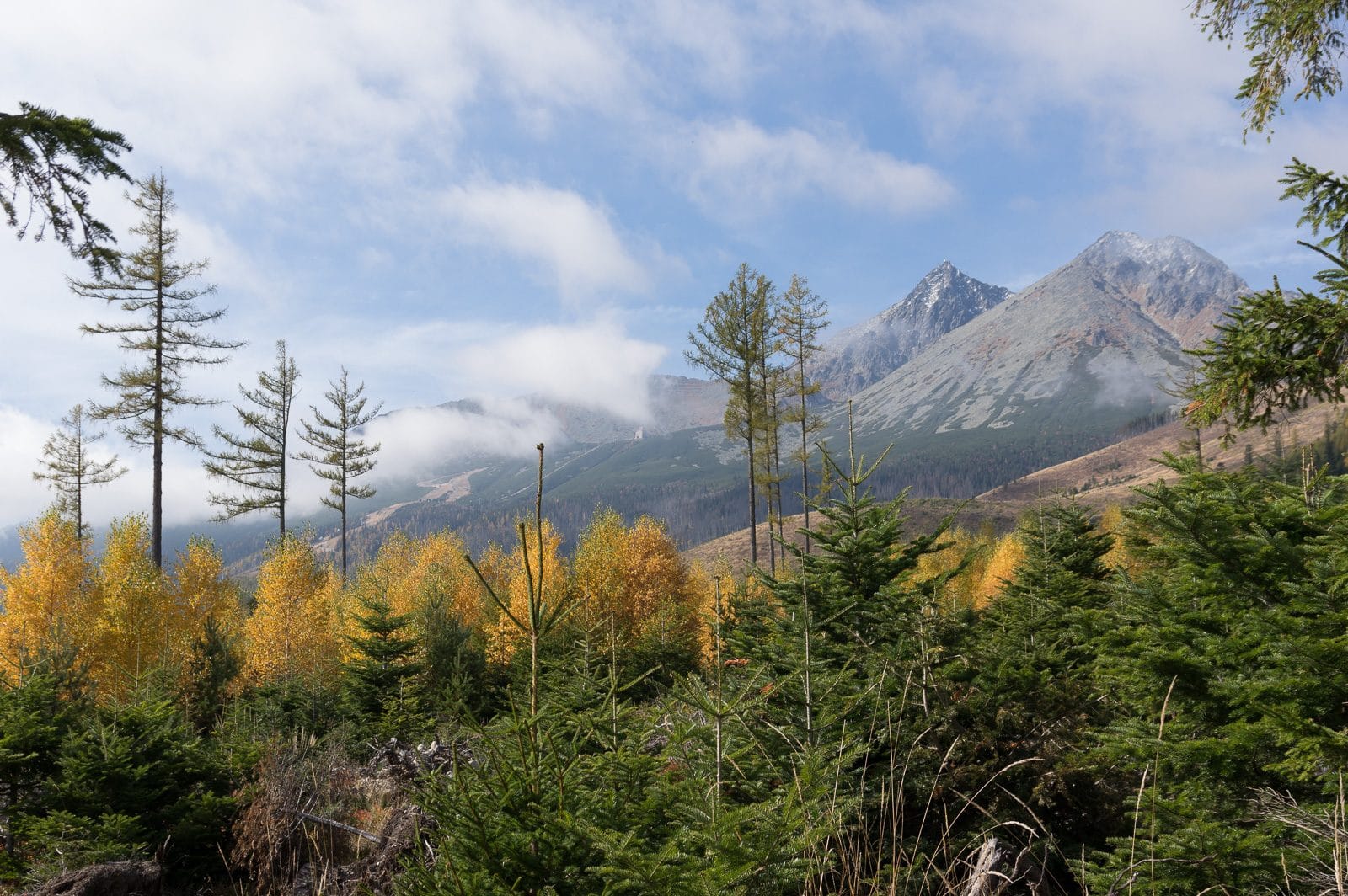 Things to Do in Zelene Pleso

Climb to summit Jahnaci (2230m).
If you're at Zelene, then you're halfway to one of High Tatras' most beautiful summits—Jahnaci stit. It takes a couple of intensive hours to get there, since you have to climb 680 vertical meters in 2.5km. There are exposed sections with chains and like all via ferratas in Slovakia there is no safety line, so if you're not very comfortable with heights, you should keep that in mind. It takes around two hours to get up there and almost the same time back to Zelene.
Hike to Trojrohe and Velke Biele pleso.
A rather short trail that will take you east to the lakes Trojohe and Velke Biele. It's a great place to see the ruggedness of the alpine central Tatras mellow out to the green meadows and rolling hills of Belianske Tatry. Duration: Around 40 minutes.
Hike to Velka Svistovka and Skalnate pleso
The ascent to Velka Svistovka saddle may not be as impressive as Jahnaci but it has great views to Biela Voda valley. From there you can keep going west to Skalnate pleso and Tatranska Lomnica or carry on to the rest of High Tatras (you can also have a look at our two day hike to Popradske pleso and Koprovsky stit).
How To Get There
The easiest way is to drive to Biela voda parking (location on Google maps) and leave the car there.
Alternatively, you can take the bus from Poprad again to Biela voda parking or catch the same bus as it passes from Stary Smokovec and Tatranska Lonmica. There are many routes from the morning and throughout the day (this is the bus schedule and the stop is Biela voda) .
When to Go
The trail to Zelene pleso is open all year around. You have to be aware of summer storms and of course the heavy Slovakian winter. Snow make this route much more challenging and if you are not used in hiking on it or if you're not properly equipped it should better be avoided. If you want to know more about hiking in the winter you can read our guide.
Where to Stay
Mountain huts are some of my favorite places to spend the night. Yes, they are not luxurious and provide only the basics but nothing beats the view of a lake and a wooden cabin under a starry-lit sky. You can book your stay at Chata pri Zelenom only through e-mail and it costs €23 per person with breakfast.
Mail: [email protected]
Tel. + 421 901 767 420
If you're looking something more comfortable like a hotel, then there are plenty of choices in Tatranska Lomnica which is close and Stary Smokovec which is not very far either.